8 Nov, 2021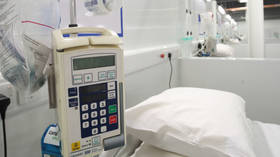 FILE PHOTO: Medical equipment seen next to a bed a hospital in Harrogate, Britain, April 21, 2020 © Reuters / Danny Lawson
Follow RT on NHS chief Amanda Pritchard claimed that 14 times as many Covid-19 patients are in Britain's hospitals as this time last year. However, even the NHS itself has admitted that Pritchard's claim uses misleading figures.
Multiple news reports on Monday told the same story: Britain's hospitals are seeing "14 times more coronavirus patients than this time last year," and the country faces a "difficult winter," as people gather indoors, where the virus is more likely to spread.
The source of the "14 times" figure is Amanda Pritchard, Chief Executive of NHS England. Pritchard used the apparently alarming surge in hospitalisations to encourage the 4.5 million Britons who still haven't gotten vaccinated to roll up their sleeves, and those eligible to take their third shot of the vaccine.
However, NHS data shows that Pritchard's figures are false. According to the health service, a 7-day average of 9,331 Covid-19 patients were in hospital at the beginning of November, compared to 12,654 a year earlier. Just over 1,000 people per day were being admitted to hospital at the end of October, compared to 1,500 last year.
Pritchard was swiftly accused of peddling fake news, with commentators warning that such misleading figures were straying into "resignation territory."
Amid a growing clamour online, NHS officials told reporters shortly afterwards that Pritchard was citing figures from August 2021 compared to August 2020. Hospital admissions were indeed 14 times higher this August than in 2020, but only for several days toward the end of the month. Since then, they have trended downwards and are now comparable to last year's rate.
However, hospitalisations persist despite the fact that nine out of 10 people over the age of 12 in the UK have received at least one dose of a Covid-19 vaccine, according to NHS statistics. Rising cases too have called into question the long-term efficacy of the jabs, but government officials still insist on vaccination as key to defeating the virus – and studies suggest those vaccinated patients still fare better if they catch the virus. 
---
Also on rt.com Drastic drop in Covid vaccine effectiveness – study
As Pritchard called on the population to get vaccinated or go in for booster jabs, former Health Secretary Matt Hancock called on Monday for the government to mandate vaccines for healthcare workers. "There is no respectable argument left not to force health and social care workers to get jabbed," he wrote in The Telegraph, calling the vaccine "the only reason for the safe return of our liberty."
---
https://www.rt.com/uk/539687-nhs-covid-patients-fake-news/
_______________________________
The Time for Silence is Over
A unified pushback against the globalist agenda
It's finally here, the Global Walkout begins September 4th at 8pm London time and continue every weeks. Next step 4th June 2023.
One step at a time, hand in hand, we are walking out from the globalist society they are trying to enslave us into
ANYONE can participate
ANYWHERE in the world
JOIN or read about it here – https://globalwalkout.com
https://www.reignitefreedom.com/
The third step is to unsubscribe from all mainstream media outlets. Delete the apps from your phone, laptop, and tablet and unfollow all of their social media and YouTube channels. Try to avoid mainstream media for at least one week, even if the headline is intriguing.
In the same time why not removing all the big tech tracking/spying/social credit system around you: (Youtube, Facebook, Instagram, Twitter, Tik Tok, Google, Apple, Microsoft, Whatsapp, Zoom, Linkedln, Snapchat, Tumblr, Pinterest, Reddit, Myspace, etc.)
The fourth step of the global walkout is to move as many accounts as you can to a union or local bank.
https://community.covidvaccineinjuries.com/compilation-peer-reviewed-medical-papers-of-covid-vaccine-injuries/
If you like our work please consider to donate :
_______________________________
If you are looking for solutions (lawyer, form, gathering, action, antidote, treatments, maybe this could help you:
HERE
If you want to fight back better:
https://childrenshealthdefense.org/child-health-topics/health-freedom/defender-days-sticker-gallery/
Find the others: www.freedomcells.org
Spike Protein Protocol
Glutathione (most important for body detoxification) or better
NAC = N-Acetyl-Cysteine 600-750mg (causes the body to produce glutathione itself)
Zinc
Astaxantin 5mg (also improves vision)
Quercetin
vitamin D3
Milk thistle (also liver and stomach protection)
Melatonin 1mg to 10mg (against 5G)
Alternatively CDS/CDL and zeolite
Dr. Zelenko's Protocol contains Ivermectin, Hydroxychloroquine (HCQ), Zinc, Vitamin D3, and Quercetin.
https://rightsfreedoms.wordpress.com/2021/09/13/summary-of-the-spike-protein-protocol-protection-against-spike-protein-and-vaccine-shedding-contagion-from-vaccinated-persons/
How to find the truth :
Search engine: https://presearch.org/, https://search.brave.com/, Searx (choose the server that you want) or https://metager.org/
Videos: www.odysee.com
www.bitchute.com
www.brandnewtube.com

Facebook style: www.gab.com or https://www.minds.com/
INTELLIGENCE ISN'T KNOWING EVERYTHING, IT'S THE ABILITY TO CHALLENGE EVERYTHING YOU KNOW