5 Nov, 2021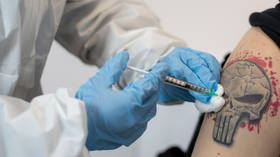 © Getty Images
Follow RT on Three different coronavirus shots – those mainly available in the US and Europe – have shown a dramatic decline in efficacy over time, a study of nearly 800,000 Americans reveals.
Covid-19 vaccine effectiveness against both infection and death was studied in three US approved jabs – the Pfizer-BioNTech and Moderna mRNA shots, and the Janssen viral vector vaccine. Read more Covid vaccinations 'not sufficient' in preventing Delta variant spread, almost equal to unvaccinated – UK study
Having analyzed data from 780,225 US veterans of different ages and sexes between February and October, researchers came to a disturbing conclusion. Vaccine protection against Covid-19 infection dropped from 89.2% at its highest to a low of 13.1%, according to a joint study by the Public Health Institute, the Veterans Affairs Medical Center, and the University of Texas Health Science Center, published in the Science journal on Thursday.
While effectiveness against infection in March was 89.2% for Moderna, 86.9% for Pfizer, and 86.4% for Janssen, by September there were massive declines to 58%, 43%, and 13% respectively.
The emergence and dominance of the Delta strain of the virus during the time of the study may have played a role, researchers said, adding that vaccine protection waned across all studied age groups.
More than 26,000 positive PCR tests occurred in some 498,000 fully vaccinated veterans.
The authors said the pattern of breakthrough infections shows a "worrisome temporal trend." While the analysis covers 2.7 percent of the US population, other domestic and international studies have shown significantly waning efficacy.
On a brighter note, vaccine effectiveness against hospitalization and death remained high.
https://www.rt.com/usa/539465-covid-vaccine-effectiveness-veterans-study/
Covid vaccinations 'not sufficient' in preventing Delta variant spread, almost equal to unvaccinated – UK study
https://www.rt.com/news/538956-covid-vaccination-delta-spread-study/
'Fully vaccinated' definition could change in the future thanks to approved Covid-19 booster shots, CDC acknowledges
https://www.rt.com/usa/538239-cdc-fully-vaccinated-covid19-boosters/
_______________________________
If you are looking for solutions (lawyer, form, gathering, action, antidote, treatments, maybe this could help you:
HERE
If you want to fight back better:
https://childrenshealthdefense.org/child-health-topics/health-freedom/defender-days-sticker-gallery/
Find the others: www.freedomcells.org
If you like our work please consider to donate :
For anyone wondering what the elites at the World Economic Forum are cooking up for the next 2 years you don't have to wonder what they are :
Spike Protein Protocol
Glutathione (most important for body detoxification) or better
NAC = N-Acetyl-Cysteine 600-750mg (causes the body to produce glutathione itself)
Zinc
Astaxantin 5mg (also improves vision)
Quercetin
vitamin D3
Milk thistle (also liver and stomach protection)
Melatonin 1mg to 10mg (against 5G)
Alternatively CDS/CDL and zeolite
Dr. Zelenko's Protocol contains Ivermectin, Hydroxychloroquine (HCQ), Zinc, Vitamin D3, and Quercetin.
How to find the truth :
Search engine: www.duckduckgo.com
Videos: www.brandnewtube.com
www.odysee.com
www.bitchute.com
Facebook style: www.gab.com