30 Nov, 2022
The bill, which carries heavy fines for violators, will become law after Russian President Vladimir Putin signs off on it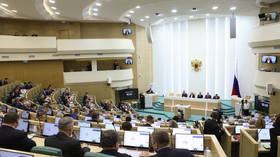 The Federation Council holds a session on November 30, 2022. © Sputnik / Russian Federation Council press service
The Federation Council, Russia's upper chamber of parliament, has approved a bill on Wednesday that imposes a complete ban on LGBTQ, pedophilia, and sex-change 'propaganda.'
The bill, which is now set to become law after Russian President Vladimir Putin signs off on it, outlaws the respective 'propaganda' in books, movies, media, and advertising.
The legislation on the "protection of traditional values" was backed unanimously by all 153 senators present at the session of the chamber, with no abstentions or opposition. Last week, the legislation passed through the State Duma, Russia's lower chamber of parliament, receiving unanimous support there as well.
The bill, which is now set to become law after Russian President Vladimir Putin signed off on it, outlaws the respective 'propaganda' in books, movies, media, and advertising. The new rules, however, do not apply to video games, as lawmakers agreed this field would require separate legislation. Roskomnadzor, Russia's media watchdog, will be tasked with monitoring media content for illegal propaganda and blocking offensive material available on the internet.
READ MORE: Russian MPs approve complete ban on 'LGBTQ propaganda'
The legislation is effectively a follow-up to a 2013 law that banned the dissemination of LGBTQ propaganda among children under 18 in the country. The new law, however, universally applies to both minors and adults.
While the bill does not introduce a criminal liability for violators – as well as for repeat offenders – it carries heavy fines for both individuals and organizations who break it. Individuals risk incurring a penalty of 400,000 rubles ($6,600) and corporate entities a penalty of up to five million rubles (around $83,000) for promoting LGBTQ 'propaganda'. Those promoting pedophilia would face fines twice those amounts. Foreign nationals would face fines of up to 800,000 rubles ($12,000), as well as expulsion from the country.
https://www.rt.com/russia/567434-lgbtq-propaganda-ban-passed/
_______________________________
The Time for Silence is Over
A unified pushback against the globalist agenda
It's finally here, the Global Walkout begins September 4th at 8pm London time and continue every weeks. Next step february 12th.
One step at a time, hand in hand, we are walking out from the globalist society they are trying to enslave us into
ANYONE can participate
ANYWHERE in the world
JOIN or read about it here – https://globalwalkout.com
https://www.reignitefreedom.com/
The third step is to unsubscribe from all mainstream media outlets. Delete the apps from your phone, laptop, and tablet and unfollow all of their social media and YouTube channels. Try to avoid mainstream media for at least one week, even if the headline is intriguing.
In the same time why not removing all the big tech tracking/spying/social credit system around you: (Youtube, Facebook, Instagram, Twitter, Tik Tok, Google, Apple, Microsoft, Whatsapp, Zoom, Linkedln, Snapchat, Tumblr, Pinterest, Reddit, Myspace, etc.)
The fourth step of the global walkout is to move as many accounts as you can to a union or local bank.
If you like our work please consider to donate :
_______________________________
If you are looking for solutions (lawyer, form, gathering, action, antidote, treatments, maybe this could help you:
HERE
If you want to fight back better:
https://childrenshealthdefense.org/child-health-topics/health-freedom/defender-days-sticker-gallery/
Find the others: www.freedomcells.org
Spike Protein Protocol
Glutathione (most important for body detoxification) or better
NAC = N-Acetyl-Cysteine 600-750mg (causes the body to produce glutathione itself)
Zinc
Astaxantin 5mg (also improves vision)
Quercetin
vitamin D3
Milk thistle (also liver and stomach protection)
Melatonin 1mg to 10mg (against 5G)
Alternatively CDS/CDL and zeolite
Dr. Zelenko's Protocol contains Ivermectin, Hydroxychloroquine (HCQ), Zinc, Vitamin D3, and Quercetin.
https://rightsfreedoms.wordpress.com/2021/09/13/summary-of-the-spike-protein-protocol-protection-against-spike-protein-and-vaccine-shedding-contagion-from-vaccinated-persons/
How to find the truth :
Search engine: https://presearch.org/, https://search.brave.com/, Searx (choose the server that you want) or https://metager.org/
Videos: www.odysee.com
www.bitchute.com
www.brandnewtube.com

Facebook style: www.gab.com or https://www.minds.com/
INTELLIGENCE ISN'T KNOWING EVERYTHING, IT'S THE ABILITY TO CHALLENGE EVERYTHING YOU KNOW