Jul 9 2022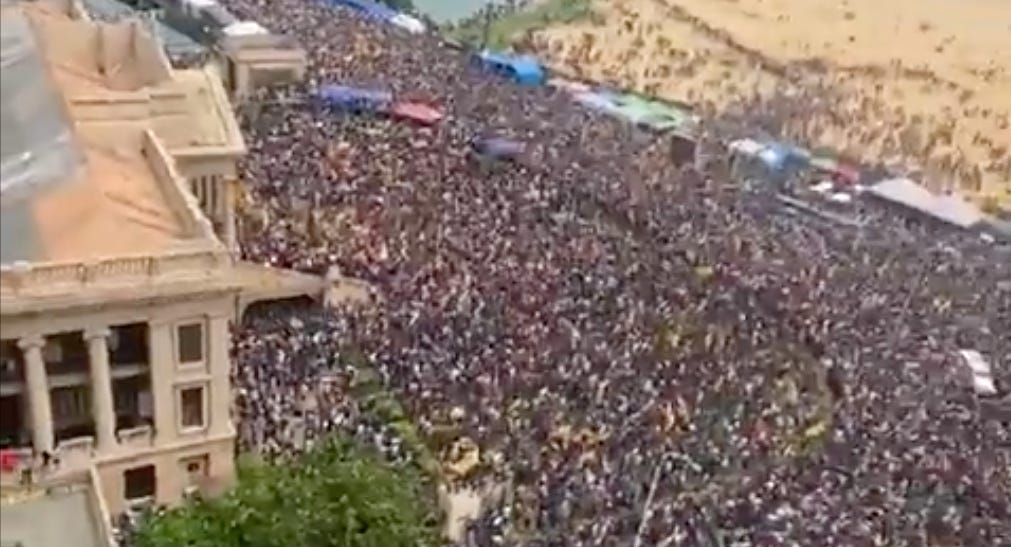 Listen to a reading of this article:Subscribe
Rise, like lions after slumber
In unvanquishable number!
Shake your chains to earth like dew
Which in sleep had fallen on you:
Ye are many—they are few!

~ Percy Bysshe Shelley
The video footage coming out of Sri Lanka right now has been the recurring nightmare of every ruler throughout history.
Thousands of protesters outraged by the deteriorating material conditions of the nation's economic meltdown have stormed the presidential palace of Sri Lanka's President Gotabaya Rajapaksa, and I guarantee you the aerial footage as they poured into the building en masse has made every government leader and plutocrat a little uncomfortable today.
Just look at that. Look at all those people flooding in there. That is some truly awe-inspiring power. Imagine how terrifying it would be to find yourself on the receiving end of it.
I don't know enough about what's going on in Sri Lanka yet to comment with any authority on what powers might be at play in this uprising, but I do know that every ruler throughout history has spent time envisioning what would happen if a crowd that size decided to storm their base of operation. If their numbers became too great to suppress, or if your forces who would be doing the suppressing joined the ranks of the people instead, the best-case scenario for you is that you'd have already fled the building by that point, as Rajapaksa had the good sense to do shortly before the building was stormed. If enough angry people get their hands on you, it won't matter if they're armed with rockets or pistols or their own bare hands; you are in for a violent end.
If you've ever wondered why so much energy goes into keeping everyone propagandized in our society, this is why. If you've ever wondered why our rulers work so hard to keep us divided against each other, this is why. If you've ever wondered why we're always being instructed to take our grievances to the voting booth even though we learn in election after election that it never changes the things that most desperately need to change, this is why.
Our entire civilization is structured around preventing scenes like the one we're seeing in Sri Lanka today. Our education systems, our political systems, our media, our online information. Religions that have been around for thousands of years because the powerful endorsed and promulgated them are full of passages extolling the virtues of obedience, poverty, meekness, and rendering unto Caesar what is Caesar's. From the moment we are born our heads are filled with stories about why it's good and right to consent to the status quo and why it would be wrong to take back what has been stolen from us by a predatory ruling class.
BNO News @BNONewsWATCH: Protesters storm presidential palace in Sri Lanka as economic crisis worsens
July 9th 20223,614 Retweets6,998 Likes
This is why we're always inundated with messaging about the importance of civility and politeness any time people realize that they can simply confront corrupt officials in restaurants or at their homes to push for what they want. The managers of the oligarchic empire which rules over us are terrified that we will one day notice that there are a whole lot more of us than there are of them, and that there's really nothing they could do to stop us if we decided to replace them with a system which benefits ordinary people instead of an elite few.
Things are getting worse and worse because the systems that are in place are designed to exploit and oppress rather than to uplift and help thrive. Those systems will protect their own ability to continue to exploit and oppress until the people use their numbers to replace them with something healthy. The people will never use their numbers to replace abusive systems with something healthy as long as they are successfully propagandized away from doing so.
This is why our political and media institutions act the way they act and why our systems are set up in the way that they are: to keep us from realizing how easy it would be to shrug off the old mechanisms of oppression like a heavy coat on a warm day and build something new that works for all of us.
Things will keep getting worse until we find a way to cut through the propaganda brain fog and rise like lions.
https://caitlinjohnstone.substack.com/p/our-entire-civilization-is-structured
_______________________________
The Time for Silence is Over
A unified pushback against the globalist agenda
It's finally here, the Global Walkout begins September 4th at 8pm London time and continue every weeks. Next step november 27th.
One step at a time, hand in hand, we are walking out from the globalist society they are trying to enslave us into
ANYONE can participate
ANYWHERE in the world
JOIN or read about it here – https://globalwalkout.com
https://www.reignitefreedom.com/
The third step is to unsubscribe from all mainstream media outlets. Delete the apps from your phone, laptop, and tablet and unfollow all of their social media and YouTube channels. Try to avoid mainstream media for at least one week, even if the headline is intriguing.
In the same time why not removing all the big tech tracking/spying/social credit system around you: (Youtube, Facebook, Instagram, Twitter, Tik Tok, Google, Apple, Microsoft, Whatsapp, Zoom, Linkedln, Snapchat, Tumblr, Pinterest, Reddit, Myspace, etc.)
The fourth step of the global walkout is to move as many accounts as you can to a union or local bank.
If you like our work please consider to donate :
_______________________________
If you are looking for solutions (lawyer, form, gathering, action, antidote, treatments, maybe this could help you:
HERE
If you want to fight back better:
https://childrenshealthdefense.org/child-health-topics/health-freedom/defender-days-sticker-gallery/
Find the others: www.freedomcells.org
Spike Protein Protocol
Glutathione (most important for body detoxification) or better
NAC = N-Acetyl-Cysteine 600-750mg (causes the body to produce glutathione itself)
Zinc
Astaxantin 5mg (also improves vision)
Quercetin
vitamin D3
Milk thistle (also liver and stomach protection)
Melatonin 1mg to 10mg (against 5G)
Alternatively CDS/CDL and zeolite
Dr. Zelenko's Protocol contains Ivermectin, Hydroxychloroquine (HCQ), Zinc, Vitamin D3, and Quercetin.
https://rightsfreedoms.wordpress.com/2021/09/13/summary-of-the-spike-protein-protocol-protection-against-spike-protein-and-vaccine-shedding-contagion-from-vaccinated-persons/
How to find the truth :
Search engine: https://metager.org/ https://presearch.org/ or https://search.brave.com/
Videos: www.brandnewtube.com
www.odysee.com
www.bitchute.com
Facebook style: www.gab.com
INTELLIGENCE ISN'T KNOWING EVERYTHING, IT'S THE ABILITY TO CHALLENGE EVERYTHING YOU KNOW