02/04/2022 / By Arsenio Toledo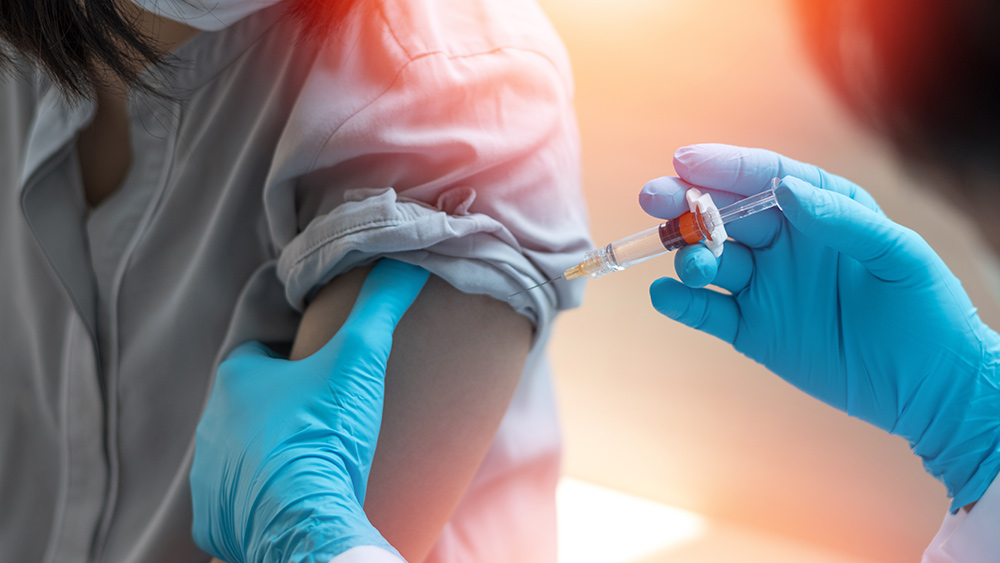 More individuals fully vaccinated against the Wuhan coronavirus (COVID-19) are developing cancer and even AIDS. This is according to prominent physicians Dr. Ryan Cole and Dr. Vladimir "Zev" Zelenko.
Cole, a board-certified pathologist and owner of a diagnostics lab in Idaho, was called to participate in Wisconsin Sen. Ron Johnson's Senate panel called "COVID-19: A Second Opinion."
This discussion panel featured world-renowned doctors and medical experts who were given a chance to provide alternate opinions regarding the experimental and dangerous COVID-19 vaccines. (Related: Fully vaccinated people make up 71% of new cases and 60% of COVID hospitalizations in US.)
Cole, who was originally invited to talk about early at-home COVID-19 treatments, also provided his testimony.
According to Cole, he conducts around 40,000 biopsies a year as a pathologist and he has been seeing more cancers pop up in people who ordinarily would not be susceptible to developing the kinds of cancers he has been seeing. The only similarity between all of these people is that they have all been vaccinated.
Cole collected all of his data and attempted to contact other laboratories to aggregate a bigger dataset. For pointing out what he has observed, Cole said he was ridiculed and maligned.
"I have oncologists, I have radiation oncologists [tell me] 'I am seeing an uptick in cancers,' 'I'm seeing these odd stable cancers take off like wildfires after the vaccines,'" said Cole. "It is happening. We need federal funding. The NIH [National Institutes of Health] isn't looking at this. Getting a grant to look at anything related to the vaccines is next to impossible."
This is not the first time Cole has spoken about the rise in cancers among those vaccinated against COVID-19. In Sept. 2021, Cole went viral after a video of him talking about seeing a rise in cancers and autoimmune diseases among the fully vaccinated was made public.
"Since Jan. 1 [2021], in the laboratory, I'm seeing a 20 times increase of endometrial cancers over what I see on an annual basis," said Cole in the video. "I'm not exaggerating at all because I look at my numbers year over year. I'm like, 'Gosh, I've never seen this many endometrial cancers before.'"
Vaccine's immunity-killing properties cause immune deficiency problems among the fully vaccinated
On Jan. 11, Zelenko, a Ukrainian-American family physician, was interviewed by Clay Clark, host of the Thrive Time Show on Brighteon.TV to talk about how the fully vaccinated patients he has been seeing are experiencing immune deficiency problems.
"They have AIDS. But it's not HIV-induced AIDS," said Zelenko. "HIV damages your killer T cells and weakens your immune system. So, that syndrome is called AIDS. But there are other things that damage your immune system."
"By taking a shot that damages your natural killer T cells, damages your tumor suppressor genes, what's happening is your innate immune system is getting shot," he continued.
Zelenko then explained that this "vaccine-acquired immunodeficiency syndrome" is the reason that he and many other doctors have seen a massive surge in debilitating illnesses like cancer, autoimmune diseases and other "opportunistic infections" and conditions like heart attacks, strokes and miscarriages.
Ben Armstrong, a journalist working for the New American pointed out on his show, "The Ben Armstrong Show," that all of this information blows up the entire narrative people have been fed regarding the COVID-19 vaccines. His hope is for this kind of information to be aired worldwide so that more people can see it.
"But of course, that's never going to happen. That's a pipe dream," he said. "So, we'll have to push it out grassroots style, as we've been doing with the truth the whole time. It's always through the grassroots, [through] people like you spreading this type of information."
More related articles:
Leaked DoD database shows U.S. military illnesses skyrocketing due to covid jabs.
Miscarriages and cancer up 300%, neurological problems up 1,000% due to covid "vaccines."
Government whistleblowers warn about rises in miscarriages and cancer since the introduction of COVID vaccines.
ACT OF WAR: Thanks to covid "vaccines," the military's cancer rate has more than TRIPLED.
Mayo Clinic-trained doctor says covid "vaccines" are locking in suppressed immunity, making people more prone to HIV, HPV, shingles, herpes.
Watch the Jan. 25 episode of "The Ben Armstrong Show" detailing how the COVID-19 vaccines make people more susceptible to cancer and AIDS.
https://www.brighteon.com/embed/11563f5c-facc-44a8-b6ae-5052058eab7f
https://vaccinedeaths.com/2022-02-04-doctors-testifying-covid-vaccines-causing-cancer-aids.html#
_______________________________
The Time for Silence is Over
A unified pushback against the globalist agenda
It's finally here, the Global Walkout begins September 4th at 8pm London time and continue every weeks. Next step 4th June 2023.
One step at a time, hand in hand, we are walking out from the globalist society they are trying to enslave us into
ANYONE can participate
ANYWHERE in the world
JOIN or read about it here – https://globalwalkout.com
https://www.reignitefreedom.com/
The third step is to unsubscribe from all mainstream media outlets. Delete the apps from your phone, laptop, and tablet and unfollow all of their social media and YouTube channels. Try to avoid mainstream media for at least one week, even if the headline is intriguing.
In the same time why not removing all the big tech tracking/spying/social credit system around you: (Youtube, Facebook, Instagram, Twitter, Tik Tok, Google, Apple, Microsoft, Whatsapp, Zoom, Linkedln, Snapchat, Tumblr, Pinterest, Reddit, Myspace, etc.)
The fourth step of the global walkout is to move as many accounts as you can to a union or local bank.
https://community.covidvaccineinjuries.com/compilation-peer-reviewed-medical-papers-of-covid-vaccine-injuries/
If you like our work please consider to donate :
_______________________________
If you are looking for solutions (lawyer, form, gathering, action, antidote, treatments, maybe this could help you:
HERE
If you want to fight back better:
https://childrenshealthdefense.org/child-health-topics/health-freedom/defender-days-sticker-gallery/
Find the others: www.freedomcells.org
Spike Protein Protocol
Glutathione (most important for body detoxification) or better
NAC = N-Acetyl-Cysteine 600-750mg (causes the body to produce glutathione itself)
Zinc
Astaxantin 5mg (also improves vision)
Quercetin
vitamin D3
Milk thistle (also liver and stomach protection)
Melatonin 1mg to 10mg (against 5G)
Alternatively CDS/CDL and zeolite
Dr. Zelenko's Protocol contains Ivermectin, Hydroxychloroquine (HCQ), Zinc, Vitamin D3, and Quercetin.
https://rightsfreedoms.wordpress.com/2021/09/13/summary-of-the-spike-protein-protocol-protection-against-spike-protein-and-vaccine-shedding-contagion-from-vaccinated-persons/
How to find the truth :
Search engine: https://presearch.org/, https://search.brave.com/, Searx (choose the server that you want) or https://metager.org/
Videos: www.odysee.com
www.bitchute.com
www.brandnewtube.com

Facebook style: www.gab.com or https://www.minds.com/
INTELLIGENCE ISN'T KNOWING EVERYTHING, IT'S THE ABILITY TO CHALLENGE EVERYTHING YOU KNOW