By Brian Shilhavy Global Research, September 16, 2021 Health Impact News
All Global Research articles can be read in 51 languages by activating the "Translate Website" drop down menu on the top banner of our home page (Desktop version).
Visit and follow us on Instagram at @crg_globalresearch.
***
The corporate media narrative that unvaccinated people are filling up the hospitals and dying from COVID is quickly falling apart, perhaps faster than they even expected.
WXYZ TV Channel 7 in Detroit asked their viewers on their Facebook Page last Friday to direct message them if they lost a loved one due to COVID-19 if they refused to get one of the COVID-19 vaccines.
This is a clear indication that they are getting desperate to find these stories, and are having a difficult time finding them.
I don't know if they got any such stories through direct messaging, but the post on their Facebook Page, as of the time of publication today, had received over 182,000 comments, and they seem to be all comments of those who have lost loved ones after receiving a COVID shot, and comments asking them why they are not covering that story.
I paged through many dozens of the comments, and did not see a single one stating that they lost someone to COVID after refusing a COVID-19 shot.
People who have been silenced and censored on Facebook and other Big Tech platforms took advantage of the opportunity to share their stories instead. It is amazing that Facebook left these up, but after so many had commented, it would probably have been an even bigger story if they had taken down the post and comments.
I wonder what WXYZ will do now? Will they do what most corporate media companies do, fueled by almost unlimited resources from their billionaire Wall Street owners who are almost all connected to the pharmaceutical industry, and just go out and hire actors instead to do the story and make them up?
Here are a few screen shots of the comments that are representative of what people are posting, in case they do take this down.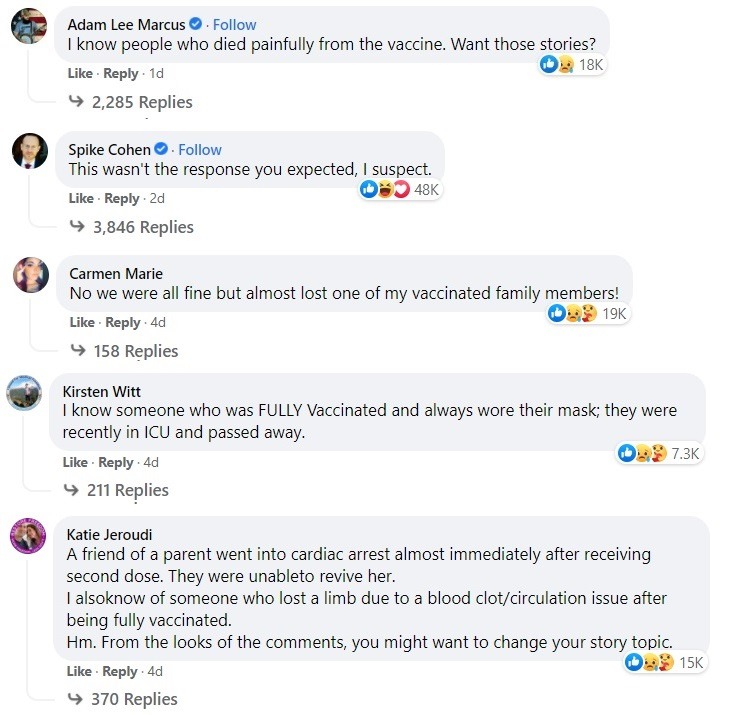 _______________________________
The Time for Silence is Over
A unified pushback against the globalist agenda
It's finally here, the Global Walkout begins September 4th at 8pm London time and continue every weeks. Next step 4th June 2023.
One step at a time, hand in hand, we are walking out from the globalist society they are trying to enslave us into
ANYONE can participate
ANYWHERE in the world
JOIN or read about it here – https://globalwalkout.com
https://www.reignitefreedom.com/
The third step is to unsubscribe from all mainstream media outlets. Delete the apps from your phone, laptop, and tablet and unfollow all of their social media and YouTube channels. Try to avoid mainstream media for at least one week, even if the headline is intriguing.
In the same time why not removing all the big tech tracking/spying/social credit system around you: (Youtube, Facebook, Instagram, Twitter, Tik Tok, Google, Apple, Microsoft, Whatsapp, Zoom, Linkedln, Snapchat, Tumblr, Pinterest, Reddit, Myspace, etc.)
The fourth step of the global walkout is to move as many accounts as you can to a union or local bank.
https://community.covidvaccineinjuries.com/compilation-peer-reviewed-medical-papers-of-covid-vaccine-injuries/
If you like our work please consider to donate :
_______________________________
If you are looking for solutions (lawyer, form, gathering, action, antidote, treatments, maybe this could help you:
HERE
If you want to fight back better:
https://childrenshealthdefense.org/child-health-topics/health-freedom/defender-days-sticker-gallery/
Find the others: www.freedomcells.org
Spike Protein Protocol
Glutathione (most important for body detoxification) or better
NAC = N-Acetyl-Cysteine 600-750mg (causes the body to produce glutathione itself)
Zinc
Astaxantin 5mg (also improves vision)
Quercetin
vitamin D3
Milk thistle (also liver and stomach protection)
Melatonin 1mg to 10mg (against 5G)
Alternatively CDS/CDL and zeolite
Dr. Zelenko's Protocol contains Ivermectin, Hydroxychloroquine (HCQ), Zinc, Vitamin D3, and Quercetin.
https://rightsfreedoms.wordpress.com/2021/09/13/summary-of-the-spike-protein-protocol-protection-against-spike-protein-and-vaccine-shedding-contagion-from-vaccinated-persons/
How to find the truth :
Search engine: https://presearch.org/, https://search.brave.com/, Searx (choose the server that you want) or https://metager.org/
Videos: www.odysee.com
www.bitchute.com
www.brandnewtube.com

Facebook style: www.gab.com or https://www.minds.com/
INTELLIGENCE ISN'T KNOWING EVERYTHING, IT'S THE ABILITY TO CHALLENGE EVERYTHING YOU KNOW