Which means if you want to stay protected, you'll likely need to get a shot every six months for the rest of your life. Otherwise, you'll be more at risk than the unvaccinated.

Oct 6 2022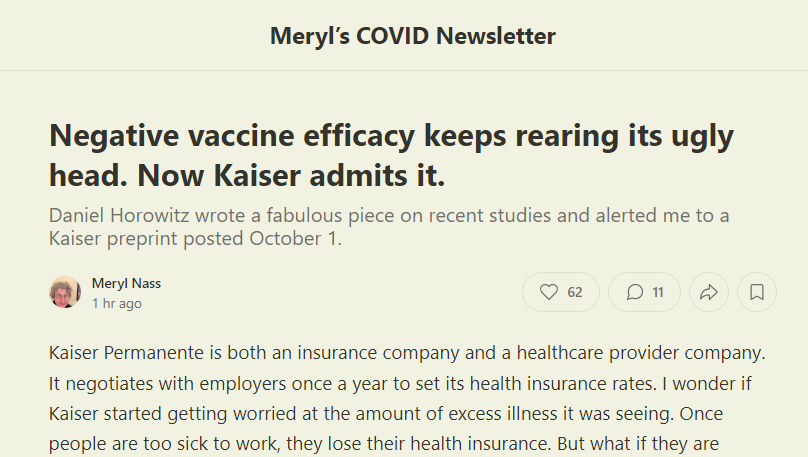 A friend pointed me to this excellent article by Dr. Meryl Nass entitled Negative vaccine efficacy keeps rearing its ugly head. Now Kaiser admits it.
Meryl has testified that the COVID vaccines are not "safe and effective." As a result, the state medical board suspended her license to practice medicine. Because that's just the way it goes.
Meryl points out that this paper from Kaiser shows negative Vaccine Efficacy (VE) after 3 shots compared to the unvaccinated comparison group.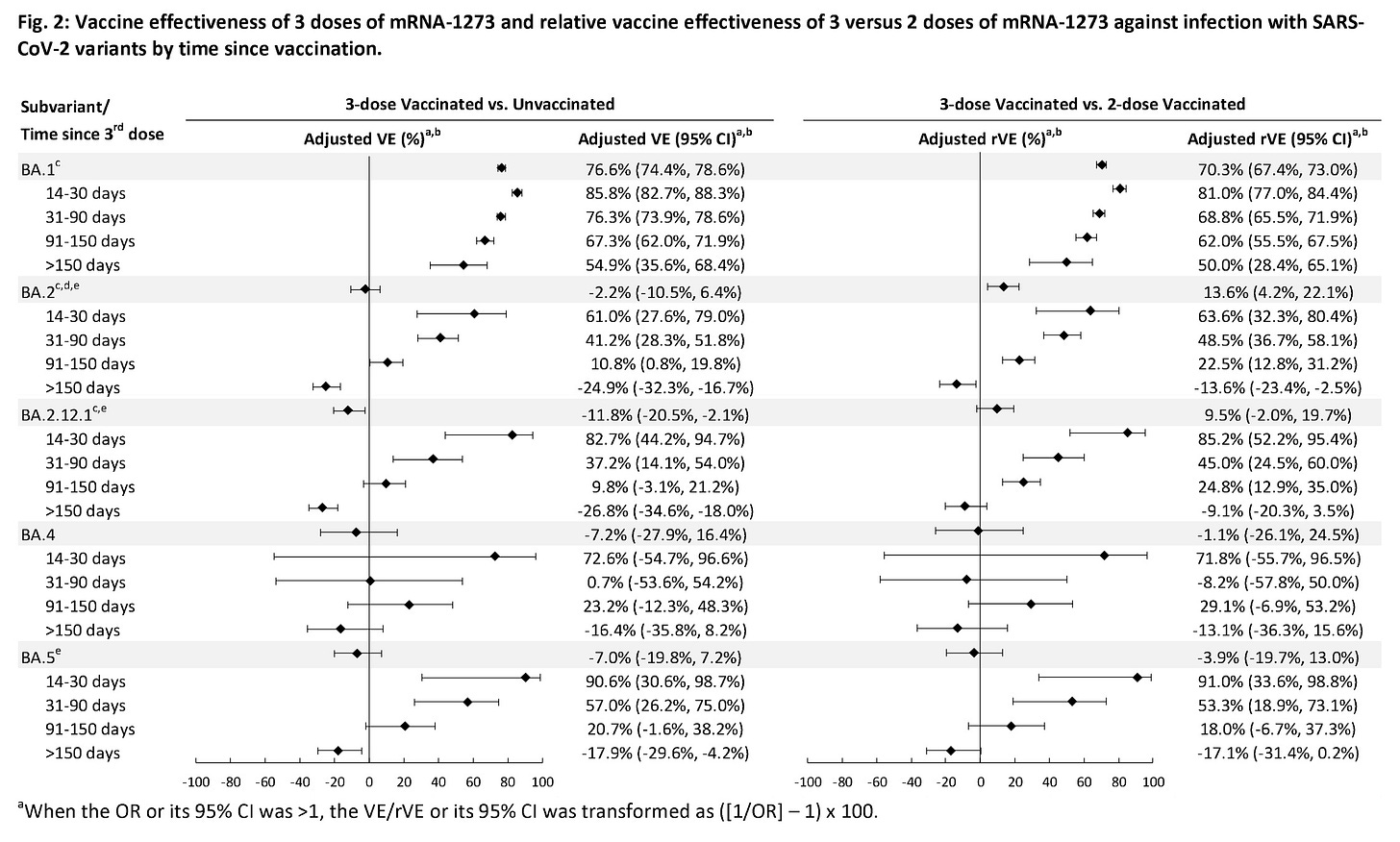 The negative VE is only for variants which are currently circulating!!!
According to the paper, the vaccine is protective against variants (BA.1) that are NOT circulating anymore. So that benefit isn't particularly useful.
Summary
Even Kaiser now admits multiple shots of the "vaccine" will make you more likely to get infected.
And we have other data showing that the hospitalization and death benefits are mirages as well.
So taking the shot is a good way to increase your odds of dying. Why we are mandating this for college students is beyond me.
https://stevekirsch.substack.com/p/kaiser-paper-admits-that-the-covid
_______________________________
The Time for Silence is Over
A unified pushback against the globalist agenda
It's finally here, the Global Walkout begins September 4th at 8pm London time and continue every weeks. Next step january 29th.
One step at a time, hand in hand, we are walking out from the globalist society they are trying to enslave us into
ANYONE can participate
ANYWHERE in the world
JOIN or read about it here – https://globalwalkout.com
https://www.reignitefreedom.com/
The third step is to unsubscribe from all mainstream media outlets. Delete the apps from your phone, laptop, and tablet and unfollow all of their social media and YouTube channels. Try to avoid mainstream media for at least one week, even if the headline is intriguing.
In the same time why not removing all the big tech tracking/spying/social credit system around you: (Youtube, Facebook, Instagram, Twitter, Tik Tok, Google, Apple, Microsoft, Whatsapp, Zoom, Linkedln, Snapchat, Tumblr, Pinterest, Reddit, Myspace, etc.)
The fourth step of the global walkout is to move as many accounts as you can to a union or local bank.
If you like our work please consider to donate :
_______________________________
If you are looking for solutions (lawyer, form, gathering, action, antidote, treatments, maybe this could help you:
HERE
If you want to fight back better:
https://childrenshealthdefense.org/child-health-topics/health-freedom/defender-days-sticker-gallery/
Find the others: www.freedomcells.org
Spike Protein Protocol
Glutathione (most important for body detoxification) or better
NAC = N-Acetyl-Cysteine 600-750mg (causes the body to produce glutathione itself)
Zinc
Astaxantin 5mg (also improves vision)
Quercetin
vitamin D3
Milk thistle (also liver and stomach protection)
Melatonin 1mg to 10mg (against 5G)
Alternatively CDS/CDL and zeolite
Dr. Zelenko's Protocol contains Ivermectin, Hydroxychloroquine (HCQ), Zinc, Vitamin D3, and Quercetin.
https://rightsfreedoms.wordpress.com/2021/09/13/summary-of-the-spike-protein-protocol-protection-against-spike-protein-and-vaccine-shedding-contagion-from-vaccinated-persons/
How to find the truth :
Search engine: https://presearch.org/, https://search.brave.com/, Searx (choose the server that you want) or https://metager.org/
Videos: www.odysee.com
www.bitchute.com
www.brandnewtube.com

Facebook style: www.gab.com or https://www.minds.com/
INTELLIGENCE ISN'T KNOWING EVERYTHING, IT'S THE ABILITY TO CHALLENGE EVERYTHING YOU KNOW