A notable change: " Undesirable Side Effects" in 2021 Filing was upgraded to "Significant Adverse Events"
Exposing The Darkness is a reader-supported publication. To support my work, please consider becoming a paid subscriber.Subscribe
While we are eagerly waiting for the next Pfizer document dump, BioNTech released its annual SEC Filing.
Just like in the 2021 Annual SEC Filing, Pfizer admits that due to safety concerns and the inability to demonstrate sufficient efficacy, they are not likely to receive regulatory approval.
A notable change: " Undesirable Side Effects" in 2021 Filing was upgraded to "Significant Adverse Events".
Will this damning documented admission be ignored again by the MSM and the majority of so-called Alternative media the same way they ignored BioNTech's 2021 SEC Filing?
Get ready for the never-ending state of emergency that will allow criminal world governments to mandate experimental Gene Therapy poison under the Emergency Use Authorisation for years to come.
Excerpts:
Page 6
Risk Factors
Our revenue depends heavily on sales of our COVID-19 vaccine, and our future revenues from our COVID-19 vaccine are uncertain.
We may not be able to demonstrate sufficient efficacy or safety of our COVID-19 vaccine and/or variant-specific formulations to obtain permanent regulatory approval in the United States, the United Kingdom, the European Union, or other countries where it has been authorized for emergency use or granted conditional marketing approval.
Significant adverse events may occur during our clinical trials or even after receiving regulatory approval, which could delay or terminate clinical trials, delay or prevent regulatory approval or market acceptance of any of our product candidates.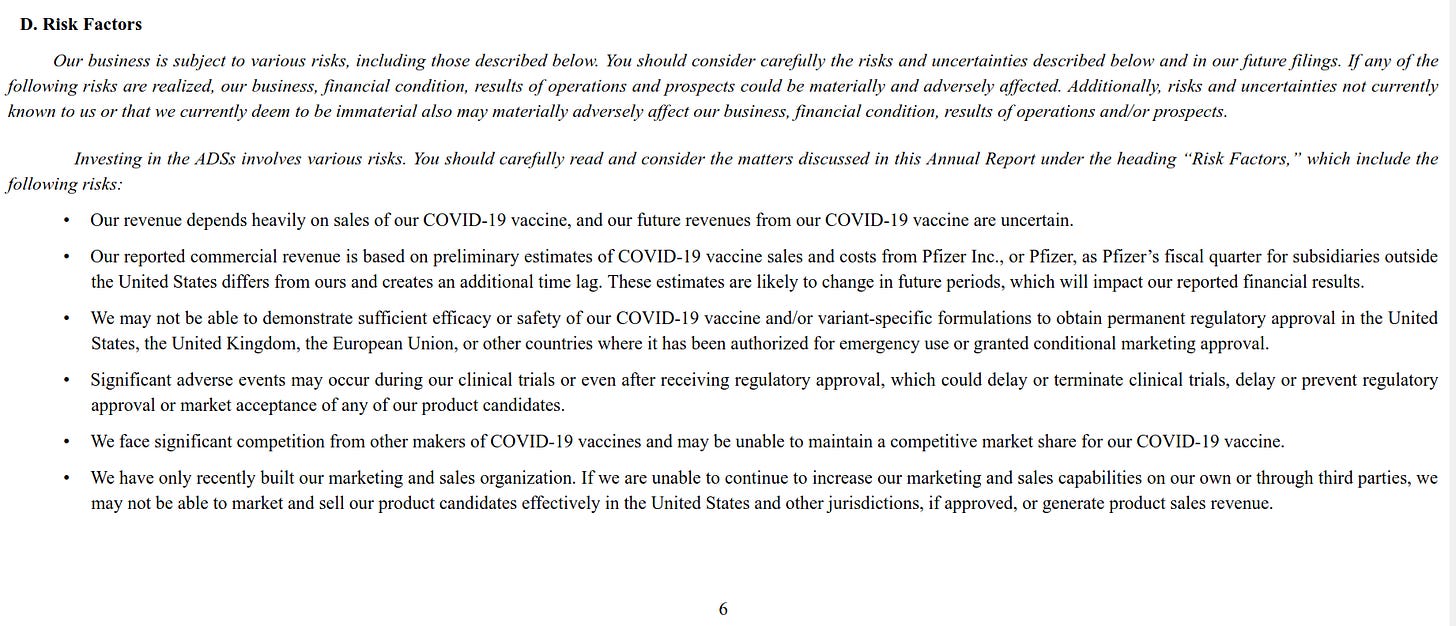 You can download the entire document here: BioNTech SEC Filing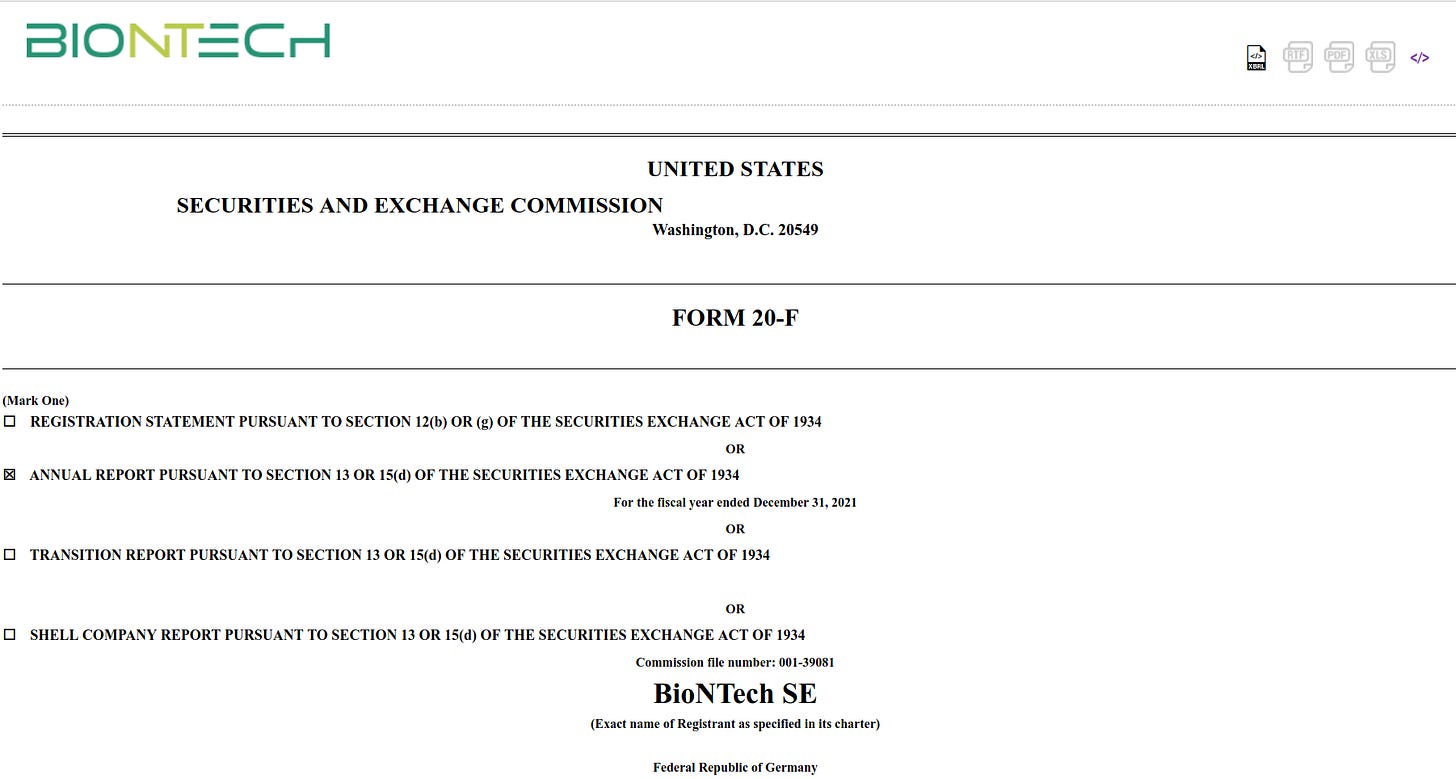 BioNTech 2021 SEC Filing:
The Truth About "Safe and Effective" mRNA "Vaccines" Hidden In Plain Sight
mRNA "Vaccines" Are Gene Therapy. May cause Undesirable Side Effects That Could Delay Or Prevent Their Regulatory Approval According To BioNTech SEC Filing
Exposing The Darkness is a reader-supported publication. To support my work, please consider becoming a paid subscriber. Filing Date March 30, 2021 Document Date December 31, 2020 Form Description Registration of securities of foreign private issuers pursuant to section 12(b) or (g…Read more4 months ago · 68 likes · 30 comments · Lioness of Judah Ministry
Related articles:
Pfizer Offers Millions in Bribes To Buy the Silence of Outspoken Doctors
Dr. Michael Yeadon: THIS MUST STOP! Pfizer Documents Show FDA Knew of Death Risk
The Truth About Safety of mRNA Vaccines Found in The European Medicines Agency's Document Titled "Comirnaty (COVID-19 mRNA Vaccine) Risk Management Plan"
Premeditated GENOCIDE: Pfizer mRNA Integrates into your DNA
Hidden in Plain Sight on NIH Website: The mRNA-LNP Platform's Lipid Nanoparticle Component Used in Preclinical Vaccine Studies Is Highly Inflammatory
Pfizer and the New World Order Depopulation Agenda: Anti-Sperm Antibody Is One of the "Adverse Events of Special Interest" Found in the Secret Pfizer Document
https://lionessofjudah.substack.com/p/biontech-2022-sec-filing-we-may-not?s=r
_______________________________
A unified pushback against the globalist agenda
It's finally here, the Global Walkout begins September 4th at 8pm London time and continue every weeks. Next step october 9th.
One step at a time, hand in hand, we are walking out from the globalist society they are trying to enslave us into
ANYONE can participate
ANYWHERE in the world
JOIN or read about it here – https://globalwalkout.com
https://www.reignitefreedom.com/
The third step is to unsubscribe from all mainstream media outlets. Delete the apps from your phone, laptop, and tablet and unfollow all of their social media and YouTube channels. Try to avoid mainstream media for at least one week, even if the headline is intriguing.
In the same time why not removing all the big tech tracking/spying/social credit system around you: (Youtube, Facebook, Instagram, Twitter, Tik Tok, Google, Apple, Microsoft, Whatsapp, Zoom, Linkedln, Snapchat, Tumblr, Pinterest, Reddit, Myspace, etc.)
The fourth step of the global walkout is to move as many accounts as you can to a union or local bank.
If you like our work please consider to donate :
_______________________________
If you are looking for solutions (lawyer, form, gathering, action, antidote, treatments, maybe this could help you:
HERE
If you want to fight back better:
https://childrenshealthdefense.org/child-health-topics/health-freedom/defender-days-sticker-gallery/
Find the others: www.freedomcells.org
Spike Protein Protocol
Glutathione (most important for body detoxification) or better
NAC = N-Acetyl-Cysteine 600-750mg (causes the body to produce glutathione itself)
Zinc
Astaxantin 5mg (also improves vision)
Quercetin
vitamin D3
Milk thistle (also liver and stomach protection)
Melatonin 1mg to 10mg (against 5G)
Alternatively CDS/CDL and zeolite
Dr. Zelenko's Protocol contains Ivermectin, Hydroxychloroquine (HCQ), Zinc, Vitamin D3, and Quercetin.
https://rightsfreedoms.wordpress.com/2021/09/13/summary-of-the-spike-protein-protocol-protection-against-spike-protein-and-vaccine-shedding-contagion-from-vaccinated-persons/
How to find the truth :
Search engine: https://metager.org/ https://presearch.org/ or https://search.brave.com/
Videos: www.brandnewtube.com
www.odysee.com
www.bitchute.com
Facebook style: www.gab.com