April 04, 2022
One would think the media learned their lesson after trumpeting a study dinging hydroxychloroquine funded by a porn star and then later retracted due to fraud. But the damage was already done, so instead, the media learned they can get away with promoting narrative-driven studies without any balance or circumspection.
Fast-forward nearly two years, and they are again frenetically promoting a study plastered on the front page of the New England Journal of Medicine website suggesting ivermectin doesn't work against COVID, based on the "largest" randomized controlled trial, known as "The TOGETHER trial." They know that this paper is so riddled with problems that anything else that is not narrative-protected would have been rejected on these grounds. But they also know that those issues are wonky and don't fit on the bumper sticker and that the damage from the headline alone that this contrived paper was designed to elicit will already have been done, just as with hydroxychloroquine and anything else in the future that will threaten the Big Pharma greed and government control agenda.
Don't miss out on content from Dave Rubin free of big tech censorship. Listen to The Rubin Report now.
Others have already thoroughly debunked the veracity of this study. You can read two comprehensive lists of flaws in the study here and here. However, these fatal flaws of the study are undergirded by a more fundamental problem in medical academia and research that will continue to plague medicine and cost lives well beyond COVID for years to come. It's important to understand why Big Pharma created a self-fulfilling standard – brainwashing the public, media, and doctors into thinking that randomized controlled trials (RCTs) are everything in medicine and that they completely trump cohort studies or meta-analysis as the gold standard of evidence.
First, only Big Pharma and Big Government (sorry for the redundancy) can afford large randomized controlled trials. This invariably allows them to be the gatekeepers of all evidence so that no competitors can break into the market. Also, randomized controlled trials, while definitely wielding certain strengths over others in the pool of scientific methods, can also be manipulated or fabricated more than other methods, and the smallest mistakes or deviations from protocol can make these trials worthless. The degree of transparency required to ensure that no such fraud took place is something that will never be demanded of the "cool kids" by the high-impact journals that are managed and funded by the same players involved in pharma (and media, tech, and government).
Thus, they have a brilliant marketing strategy whereby only large RCTs they control and published in journals like Lancet, NEJM, or JAMA and the like can make the cut. It's no surprise that in the disclosure form of the study's authors, they reveal they have taken money from all of the players that have manufactured or promoted the vaccines, remdesivir, Paxlovid, and molnupiravir – and trashed every other therapeutic approach.
Also, the TOGETHER trial appears to be funded by the Gates Foundation.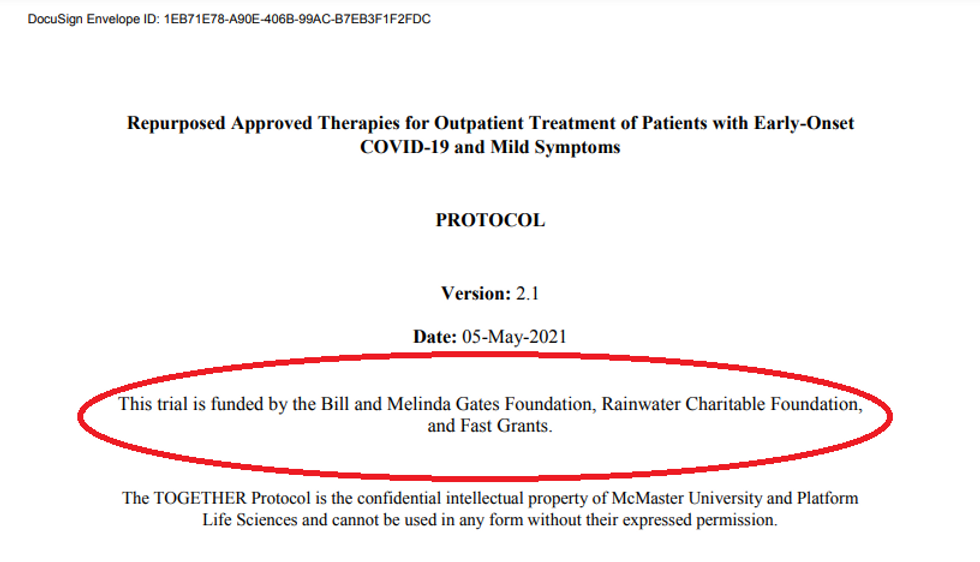 Really? I mean, there was no independent third party available to fund it who isn't the biggest champion of the shots and hater of alternatives?
Isn't it interesting how all of the studies published by scientists with no relationship to the competitors of ivermectin are the ones that seem to show benefit, while those with the ties to the pharma giants all show ivermectin, despite its 20 mechanisms of action, has absolutely zero efficacy?
It's therefore not surprising to see the magical dichotomy between numerous other types of studies, smaller RCTs, or those published in non-vaunted journals showing drastically different results from ivermectin. C19early.com, a website that aggregates all of the studies on COVID therapeutics, did a pooled meta-analysis of 81 studies from 782 scientists of 128,000 patients showing together an 83%, 63%, and 42% improvement for preventives, early treatment, and late treatment respectively. There is a 56% improvement among the 33 RCTs conducted. But even excluding 27 of those studies that pharma/media allies bizarrely contested or that were low-powered, they found the same results with the remaining 54 studies.
Let's not forget that even the Malaysian JAMA trial, which the media recently used to suggest that ivermectin failed a primary outcome, showed a 70% reduction in mortality – with slight under-powering (91% confidence instead of industry standard 95%) – among comorbid patients of whom 66% were already diagnosed with COVID lung on radiography. It should be noted that in the JAMA trial, patients in the trial arm were given the full five-day course and told to take it with food, which helps the drug absorb into the system, both of which did not happen in the NEJM TOGETHER trial.
All of these studies harmonize with the clinical experience of a number of doctors around the world who have nothing to gain and everything to lose but have seen remarkable turnarounds even among patients on ventilators. Likewise, consumers, despite being told this drug is for horses, are willing to crawl over glass to get hold of it, a degree of desperation they clearly are not showing for pharma's choice therapeutics of remdesivir, molnupiravir, or Paxlovid.
Also, we know that government officials knew very early on that ivermectin and hydroxychloroquine work against this virus. A letter written by a DARPA researcher to the DOD inspector general, obtained by Project Veritas, flatly stated, "Ivermectin (identified as curative in April 2020) works throughout all phases of illness because it both inhibits viral replication and modulates the immune response." Major Mike Murphy, a DARPA researcher in the now unclassified letter dated Aug. 13, 2021, added, "Of note, chloroquine phosphate (Hydroxychloroquine, identified April 2020 as curative) is identified in the proposal as a SARSr-CoV inhibitor, as is interferon (identified May 2020 as curative)."
Again, large randomized controlled trials have their place, but they are just one piece of the puzzle of the preponderance of evidence and are actually the most prone to fraud, when we know these same forces clearly fabricated the vaccine trials (anyone remember 90%+ effective and safer than any other vaccine?).
The gold standard of academic research methodology is the Cochrane Library. In 2014, the Library published an analysis comparing the quality of RCTs to other observational studies. The finding flies in the face of the idolatrous dogma pervading every corner of academia, medicine, and media. "We have reached similar conclusions; on average, there is little evidence for significant effect estimate differences between observational studies and RCTs, regardless of specific observational study design, heterogeneity, or inclusion of studies of pharmacological interventions," concluded the authors.
There are times when other methods can be more revealing, or at least more transparent. There have been many retrospective cohort studies conducted on either health risks for severe COVID outcomes or treatment options for COVID. The research is often done by reviewing medical databases and comparing outcomes of patients who, for example, were given a certain steroid or antibiotic vs. others who had not and tracking their outcomes. Other papers studied outcomes of those with low vitamin D levels or high vitamin D levels upon entry to the hospital. This method allows the researchers to use massive sample sizes and easily analyze and adjust for confounders.
The databases are available to everyone, and the data was originally published for other purposes with no intent of it being used for something that became extremely political and even a cultural flashpoint. Analysts will debate the interpretation and different confounders, but the actual data being used is transparent. With the RCTs, on the other hand, the authors can pull out any data they want and start running with it, and the entire analysis and debate hinges on their honesty.
Or, for example, you could have a prospective observational cohort study that is not randomized or blinded, such as the massive Itajai, Brazil, study of 113,000 people in the trial group using ivermectin. It allowed researchers to more cheaply use a massive sample, all of the most detailed information about everyone uploaded online for all to see, and this was done in cooperation with Brazil's very tightly controlled government-run health care system. Given that it's not randomized, everyone screams about confounders, but the reality is that in that study, the sicker people joined the ivermectin arm. All of the data is transparent, and one could follow each outcome of every patient with every permutation of medical status and clinical diagnosis. No such data is available from the RCTs of the heavy hitters.
Trying to contrive reality in a man-made trial, as opposed to studying reality, makes any deviation from protocol a fatal flaw to the outcome. For example, one of the main problems with the NEJM TOGETHER study is that researchers did not confirm the exclusion of ivermectin use from the placebo arm. In that part of Brazil, ivermectin was very popular and available over the counter during that time.
This concern is magnified by the fact that 60% of the original placebo group appears not to have followed protocol, which is, independently, a fatal flaw of a study and might demonstrate there was a lot of crossover.
Whereas with the Itajai study published in Cureus, the study designers weren't pretending to blind and randomize the participants and instead offered people ivermectin openly. 113,000 accepted. Just a minority, 13,000, declined. So, it's much more likely that these people in the control arm didn't go on their own and use ivermectin anyway.
A lot of people have been raising concerns about seemingly contradictory and fraudulent data points in the TOGETHER study. And it certainly seems suspicious why the other arm of this trial – fluvoxamine – was published last August, but it took an extra seven months to publish the ivermectin arm even though the two arms ended around the same time. Then, the study's broad findings were teased out in three phases to maximize the news cycle.
Very scientific and academic in nature! No politics whatsoever!
Again, people vote with their feet and their pocketbooks. The fact that so many people heard of miraculous recoveries from their friends and relatives and were willing to even overpay or order ivermectin from India demonstrates a degree of evidentiary power that cannot be quantified in any study. The fact that families would engage in expensive legal battles over ivermectin with loved ones in hospitals coupled with all the other positive studies (coincidently all published before the war on ivermectin began in government and media) stands in sharp contrast to all the recent ones published in high-impact journals. How do you square the contradiction? It would be one thing if those trials suggested a more modest degree of efficacy. But none whatsoever? Really? With 20 mechanisms of action as an antiviral, anti-inflammatory, and anti-coagulant?
A thinking person would understand which side is more likely to engage in bias, has more opportunity to do so, and has more to gain. With this background, you can easily understand the tyranny of the large randomized controlled trial subterfuge of Big Pharma and that this has been used for years to promote bad drugs and box out potentially better ones.
Remember, the asymmetry of standards, media coverage, and censorship that has been applied to the Big Pharma drugs vs. dozens of other cheap drugs and supplements demonstrates that this is not just about one or two drugs, but a standard that will be used in the future to prevent countless lives from being saved.
Last week, Dr. Pierre Kory presented this chart from C19Early.com at a COVID summit in Paris, which is worth 1 trillion printed words…or dollars!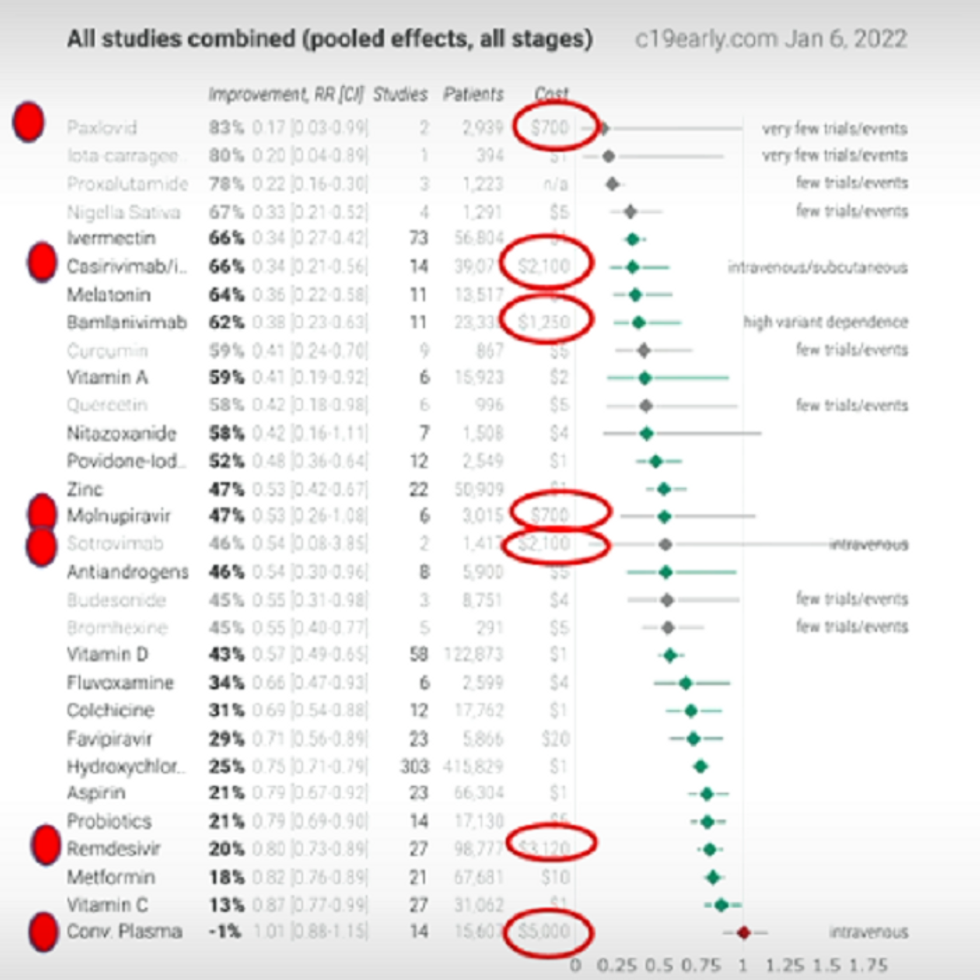 It just happens to be that the only drugs that have been approved are the ones that are the costliest.
Indeed, this is not just about ivermectin or COVID treatment. Anyone who cares about science, medicine, human compassion, and decreased human suffering headed forward should be very suspicious about the way "evidenced-based medicine" has been used as a cudgel to advance an agenda that is antithetical to science, medicine, and compassion.
_______________________________
The Time for Silence is Over
A unified pushback against the globalist agenda
It's finally here, the Global Walkout begins September 4th at 8pm London time and continue every weeks. Next step 4th June 2023.
One step at a time, hand in hand, we are walking out from the globalist society they are trying to enslave us into
ANYONE can participate
ANYWHERE in the world
JOIN or read about it here – https://globalwalkout.com
https://www.reignitefreedom.com/
The third step is to unsubscribe from all mainstream media outlets. Delete the apps from your phone, laptop, and tablet and unfollow all of their social media and YouTube channels. Try to avoid mainstream media for at least one week, even if the headline is intriguing.
In the same time why not removing all the big tech tracking/spying/social credit system around you: (Youtube, Facebook, Instagram, Twitter, Tik Tok, Google, Apple, Microsoft, Whatsapp, Zoom, Linkedln, Snapchat, Tumblr, Pinterest, Reddit, Myspace, etc.)
The fourth step of the global walkout is to move as many accounts as you can to a union or local bank.
https://community.covidvaccineinjuries.com/compilation-peer-reviewed-medical-papers-of-covid-vaccine-injuries/
If you like our work please consider to donate :
_______________________________
If you are looking for solutions (lawyer, form, gathering, action, antidote, treatments, maybe this could help you:
HERE
If you want to fight back better:
https://childrenshealthdefense.org/child-health-topics/health-freedom/defender-days-sticker-gallery/
Find the others: www.freedomcells.org
Spike Protein Protocol
Glutathione (most important for body detoxification) or better
NAC = N-Acetyl-Cysteine 600-750mg (causes the body to produce glutathione itself)
Zinc
Astaxantin 5mg (also improves vision)
Quercetin
vitamin D3
Milk thistle (also liver and stomach protection)
Melatonin 1mg to 10mg (against 5G)
Alternatively CDS/CDL and zeolite
Dr. Zelenko's Protocol contains Ivermectin, Hydroxychloroquine (HCQ), Zinc, Vitamin D3, and Quercetin.
https://rightsfreedoms.wordpress.com/2021/09/13/summary-of-the-spike-protein-protocol-protection-against-spike-protein-and-vaccine-shedding-contagion-from-vaccinated-persons/
How to find the truth :
Search engine: https://presearch.org/, https://search.brave.com/, Searx (choose the server that you want) or https://metager.org/
Videos: www.odysee.com
www.bitchute.com
www.brandnewtube.com

Facebook style: www.gab.com or https://www.minds.com/
INTELLIGENCE ISN'T KNOWING EVERYTHING, IT'S THE ABILITY TO CHALLENGE EVERYTHING YOU KNOW