24 February 2022
After almost two years of restrictions aimed at curbing the transmission of COVID-19, the Icelandic Government finally announced on Wednesday that all restrictions, including all testing and restrictions at the borders, will be lifted at midnight on Friday, February 25th.
The Minister for Healthcare, Willum Thor Thorsson, said that with the current level of infections, continued restrictions are useless. "Restrictions do not have any effect at this point in time," he said. The Health Ministry also said the way to end the pandemic is herd immunity through infections, and it wants "as many people as possible" to be infected to achieve "widespread societal resistance". Vaccines will not provide the necessary immunity.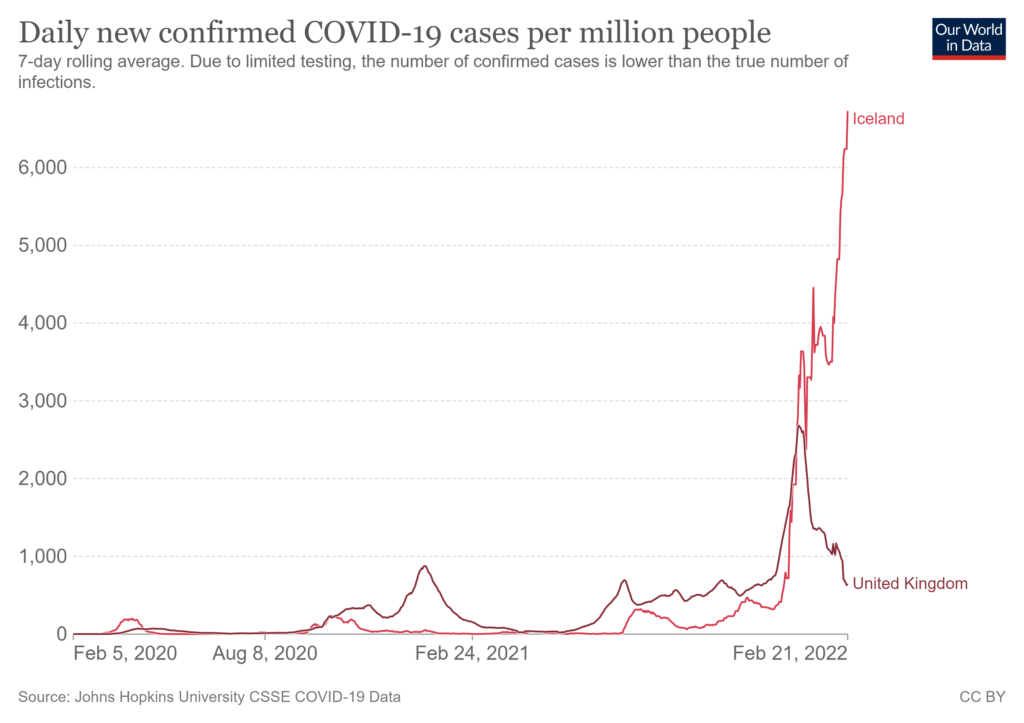 Over the past weeks and months, mask mandates and strict limitations on gatherings have been in place, while infections have surged and the restrictions seem to have had no effect on transmission.
As much as 81% of the population above the age of four has been vaccinated at least twice. Official figures now show a higher infection rate among double-vaccinated adults and children than among the unvaccinated, and the boosters clearly do little to curb infections, as the infection rate for the triple vaccinated is now around 70% of that for the unvaccinated, and approaching it slowly but surely.
Almost a third of the population has tested positive and based on a recent local seroprevalence study it may be estimated that the actual proportion of the population that has been infected is close to two thirds.
The use of PCR tests for the general population has been discontinued and the crowd waiting outside the main testing centre in Reykjavik dispersed just after the Government made its announcement on Wednesday.
Most of the people in the street interviewed by the media seemed happy to get rid of the restrictions. The director of the Icelandic national hospital was worried though, and said this was too early.
Despite the decision made this week, the Icelandic Prime Minister said the possibility of new restrictions later on could not be ruled out, for example in the case of a new variant emerging. After the Healthcare Minister's announcement regarding the lack of effectiveness of the restrictions, it might be expected that a decision to reimpose them would have to rest on a stronger foundation than before.
Thorsteinn Siglaugsson is an economist who lives in Iceland. Find him on his blog.
Stop Press: Poland is also lifting all restrictions from March 1st, except the mask mandate, oddly.
_______________________________
The Time for Silence is Over
A unified pushback against the globalist agenda
It's finally here, the Global Walkout begins September 4th at 8pm London time and continue every weeks. Next step 4th June 2023.
One step at a time, hand in hand, we are walking out from the globalist society they are trying to enslave us into
ANYONE can participate
ANYWHERE in the world
JOIN or read about it here – https://globalwalkout.com
https://www.reignitefreedom.com/
The third step is to unsubscribe from all mainstream media outlets. Delete the apps from your phone, laptop, and tablet and unfollow all of their social media and YouTube channels. Try to avoid mainstream media for at least one week, even if the headline is intriguing.
In the same time why not removing all the big tech tracking/spying/social credit system around you: (Youtube, Facebook, Instagram, Twitter, Tik Tok, Google, Apple, Microsoft, Whatsapp, Zoom, Linkedln, Snapchat, Tumblr, Pinterest, Reddit, Myspace, etc.)
The fourth step of the global walkout is to move as many accounts as you can to a union or local bank.
https://community.covidvaccineinjuries.com/compilation-peer-reviewed-medical-papers-of-covid-vaccine-injuries/
If you like our work please consider to donate :
_______________________________
If you are looking for solutions (lawyer, form, gathering, action, antidote, treatments, maybe this could help you:
HERE
If you want to fight back better:
https://childrenshealthdefense.org/child-health-topics/health-freedom/defender-days-sticker-gallery/
Find the others: www.freedomcells.org
Spike Protein Protocol
Glutathione (most important for body detoxification) or better
NAC = N-Acetyl-Cysteine 600-750mg (causes the body to produce glutathione itself)
Zinc
Astaxantin 5mg (also improves vision)
Quercetin
vitamin D3
Milk thistle (also liver and stomach protection)
Melatonin 1mg to 10mg (against 5G)
Alternatively CDS/CDL and zeolite
Dr. Zelenko's Protocol contains Ivermectin, Hydroxychloroquine (HCQ), Zinc, Vitamin D3, and Quercetin.
https://rightsfreedoms.wordpress.com/2021/09/13/summary-of-the-spike-protein-protocol-protection-against-spike-protein-and-vaccine-shedding-contagion-from-vaccinated-persons/
How to find the truth :
Search engine: https://presearch.org/, https://search.brave.com/, Searx (choose the server that you want) or https://metager.org/
Videos: www.odysee.com
www.bitchute.com
www.brandnewtube.com

Facebook style: www.gab.com or https://www.minds.com/
INTELLIGENCE ISN'T KNOWING EVERYTHING, IT'S THE ABILITY TO CHALLENGE EVERYTHING YOU KNOW