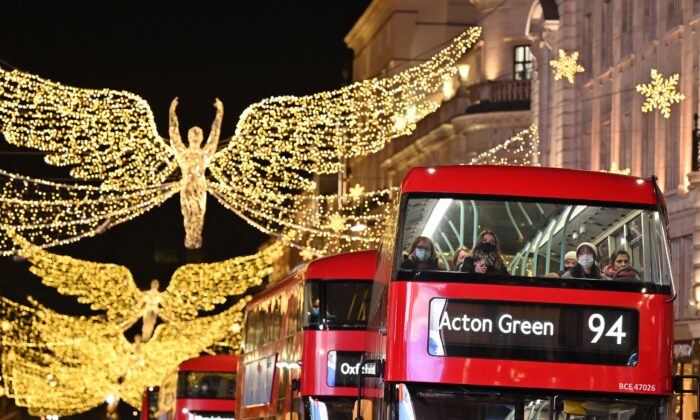 Passengers, some wearing face coverings to combat the spread of the coronavirus, sit on the top deck of a red double-decker London bus travelling beneath the Christmas lights in central London on Dec. 21, 2021. (Justin Tallis/AFP via Getty Images) Vaccines & Safety
By Andrew Davies December 21, 2021
Dr. Sam White and members of his legal team visited Charing Cross and Hammersmith Police Stations in London on Monday, December 20, in their latest efforts to expose what they claim are serious safety issues regarding the COVID vaccines. They are also accusing UK government agencies of knowingly withholding information from the British public.
PJH Law presented a criminal complaint containing "significant and irrefutable evidence," which was accepted by the Metropolitan Police. As a result, a crime reference number has been issued for "Misconduct in Public Office," and a designated officer and police department has been allocated to deal with it.
The lawyers acting on behalf of Dr White stated: "Of paramount importance and as a matter of public safety, we as a collective have demanded the vaccine rollout is stopped immediately and we suggested an address to the nation is made by the Metropolitan Police to advise accordingly."
They added: "A number of government departments and in particular individuals in public office and government have been named as offenders and we have supporting evidence."
Their interview with the police lasted six hours and was recorded, but this is not being released to avoid prejudicing what is now a live criminal investigation.
White stressed to the police that UK Doctors, nurses, and care workers are also being "blackmailed to take the vaccine or lose their jobs."
The deadline the government has set for healthcare workers to be fully vaccinated is April 1, 2022. This date is better known as "April Fool's Day," when practical jokes are traditionally played, but White and his colleagues say there is nothing funny about forcing people to take a not fully tested vaccine or lose their jobs.
https://www.theepochtimes.com/uk-government-officials-face-police-investigation-over-covid-vaccines_4171032.html
_______________________________
The Time for Silence is Over
A unified pushback against the globalist agenda
It's finally here, the Global Walkout begins September 4th at 8pm London time and continue every weeks. Next step march 26.
One step at a time, hand in hand, we are walking out from the globalist society they are trying to enslave us into
ANYONE can participate
ANYWHERE in the world
JOIN or read about it here – https://globalwalkout.com
https://www.reignitefreedom.com/
The third step is to unsubscribe from all mainstream media outlets. Delete the apps from your phone, laptop, and tablet and unfollow all of their social media and YouTube channels. Try to avoid mainstream media for at least one week, even if the headline is intriguing.
In the same time why not removing all the big tech tracking/spying/social credit system around you: (Youtube, Facebook, Instagram, Twitter, Tik Tok, Google, Apple, Microsoft, Whatsapp, Zoom, Linkedln, Snapchat, Tumblr, Pinterest, Reddit, Myspace, etc.)
The fourth step of the global walkout is to move as many accounts as you can to a union or local bank.
If you like our work please consider to donate :
_______________________________
If you are looking for solutions (lawyer, form, gathering, action, antidote, treatments, maybe this could help you:
HERE
If you want to fight back better:
https://childrenshealthdefense.org/child-health-topics/health-freedom/defender-days-sticker-gallery/
Find the others: www.freedomcells.org
Spike Protein Protocol
Glutathione (most important for body detoxification) or better
NAC = N-Acetyl-Cysteine 600-750mg (causes the body to produce glutathione itself)
Zinc
Astaxantin 5mg (also improves vision)
Quercetin
vitamin D3
Milk thistle (also liver and stomach protection)
Melatonin 1mg to 10mg (against 5G)
Alternatively CDS/CDL and zeolite
Dr. Zelenko's Protocol contains Ivermectin, Hydroxychloroquine (HCQ), Zinc, Vitamin D3, and Quercetin.
https://rightsfreedoms.wordpress.com/2021/09/13/summary-of-the-spike-protein-protocol-protection-against-spike-protein-and-vaccine-shedding-contagion-from-vaccinated-persons/
How to find the truth :
Search engine: https://presearch.org/, https://search.brave.com/, Searx (choose the server that you want) or https://metager.org/
Videos: www.odysee.com
www.bitchute.com
www.brandnewtube.com

Facebook style: www.gab.com or https://www.minds.com/
INTELLIGENCE ISN'T KNOWING EVERYTHING, IT'S THE ABILITY TO CHALLENGE EVERYTHING YOU KNOW