14 Nov, 2021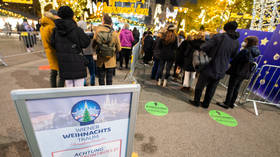 A line in front of a Christmas market in Vienna, Austria, November 12, 2021. © Georg Hochmuth/APA/AFP
Follow RT on Austria will impose new curbs on the unvaccinated starting from Monday. The measure aims to ease pressure on hospitals and ICUs.
The lockdown will come into effect at midnight and will apply to people aged 12 and older who have not been vaccinated and have not recently recovered from Covid-19. READ MORE: Protest in Austria as government mulls lockdown for unvaccinated (VIDEO)
"This step was not easy to take, but it is necessary," Chancellor Alexander Schallenberg said. "The risk for the unvaccinated people is much higher. Therefore, we are forced to take this difficult step to reduce the number of contacts."
Schallenberg said the fourth wave of infections had hit the country with "full force."
The chancellor once again urged people to get vaccinated in order to "break" the wave. "Otherwise we'll never escape this vicious cycle."
Two of the hardest-hit regions, Upper Austria and Salzburg, were the first to announce they would impose a lockdown on Monday.
Interior Minister Karl Nehammer earlier said lockdown violators would face hefty fines. Customers may be punished with a fine of up to €500 ($573) for flouting restrictions while businesses may be slapped with a penalty of up to €30,000 ($34,354).
"For those who keep to all the measures, it's more than unfair if there are people who think they can simply circumvent or even fool health authorities, the health ministry and experts' guidelines," the minister explained.
The idea of a lockdown exclusively targeting the unvaccinated was first floated by the government in September as a response to a nightmare scenario in which 30% of ICU beds would be occupied by Covid-19 patients. That figure currently stands at 20% and is rising. Health officials have grown increasingly alarmed that hospitals will become overcrowded amid what they call "the pandemic of the unvaccinated."
President Alexander Van der Bellen warned on Saturday that the situation in some hospitals and ICUs was "unbearable," and could deteriorate further unless strong action is taken.
Roughly 65% of Austria's nine-million population have been fully vaccinated, one of the lowest rates in Europe, according to Reuters. The Austrian government warned that around 83% of symptomatic cases recorded between January and September of this year involved unvaccinated people.
https://www.rt.com/news/540199-austria-lockdown-for-unvaxxed/
_______________________________
The Time for Silence is Over
A unified pushback against the globalist agenda
It's finally here, the Global Walkout begins September 4th at 8pm London time and continue every weeks. Next step 4th June 2023.
One step at a time, hand in hand, we are walking out from the globalist society they are trying to enslave us into
ANYONE can participate
ANYWHERE in the world
JOIN or read about it here – https://globalwalkout.com
https://www.reignitefreedom.com/
The third step is to unsubscribe from all mainstream media outlets. Delete the apps from your phone, laptop, and tablet and unfollow all of their social media and YouTube channels. Try to avoid mainstream media for at least one week, even if the headline is intriguing.
In the same time why not removing all the big tech tracking/spying/social credit system around you: (Youtube, Facebook, Instagram, Twitter, Tik Tok, Google, Apple, Microsoft, Whatsapp, Zoom, Linkedln, Snapchat, Tumblr, Pinterest, Reddit, Myspace, etc.)
The fourth step of the global walkout is to move as many accounts as you can to a union or local bank.
https://community.covidvaccineinjuries.com/compilation-peer-reviewed-medical-papers-of-covid-vaccine-injuries/
If you like our work please consider to donate :
_______________________________
If you are looking for solutions (lawyer, form, gathering, action, antidote, treatments, maybe this could help you:
HERE
If you want to fight back better:
https://childrenshealthdefense.org/child-health-topics/health-freedom/defender-days-sticker-gallery/
Find the others: www.freedomcells.org
Spike Protein Protocol
Glutathione (most important for body detoxification) or better
NAC = N-Acetyl-Cysteine 600-750mg (causes the body to produce glutathione itself)
Zinc
Astaxantin 5mg (also improves vision)
Quercetin
vitamin D3
Milk thistle (also liver and stomach protection)
Melatonin 1mg to 10mg (against 5G)
Alternatively CDS/CDL and zeolite
Dr. Zelenko's Protocol contains Ivermectin, Hydroxychloroquine (HCQ), Zinc, Vitamin D3, and Quercetin.
https://rightsfreedoms.wordpress.com/2021/09/13/summary-of-the-spike-protein-protocol-protection-against-spike-protein-and-vaccine-shedding-contagion-from-vaccinated-persons/
How to find the truth :
Search engine: https://presearch.org/, https://search.brave.com/, Searx (choose the server that you want) or https://metager.org/
Videos: www.odysee.com
www.bitchute.com
www.brandnewtube.com

Facebook style: www.gab.com or https://www.minds.com/
INTELLIGENCE ISN'T KNOWING EVERYTHING, IT'S THE ABILITY TO CHALLENGE EVERYTHING YOU KNOW