New figures this week show that Co Waterford has both the highest vaccination rate and the highest COVID-19 incidence rate in Ireland. It's partly been put down to a change in people's behaviour, with the jabs having made some over-confident.Stephen Murphy
Ireland correspondent @SMurphyTV
Saturday 6 November 2021 23:15, UK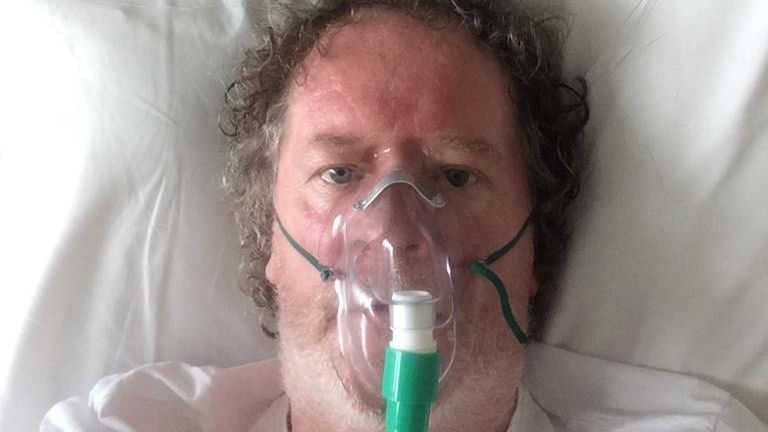 Waterford, in south-eastern Ireland, epitomises the country's coronavirus conundrum. Why is there a surge in COVID-19 cases in a nation where around 92% of all adults are fully vaccinated?
A massive 99.5% of adults over the age of 18 in Co Waterford are double-jabbed. That's thought to be one of the highest rates of any region anywhere in the world.
But, according to the Health Protection Surveillance Centre, the county now tops the national infection league table, with a 14-day incidence rate of 1,294 per 100,000.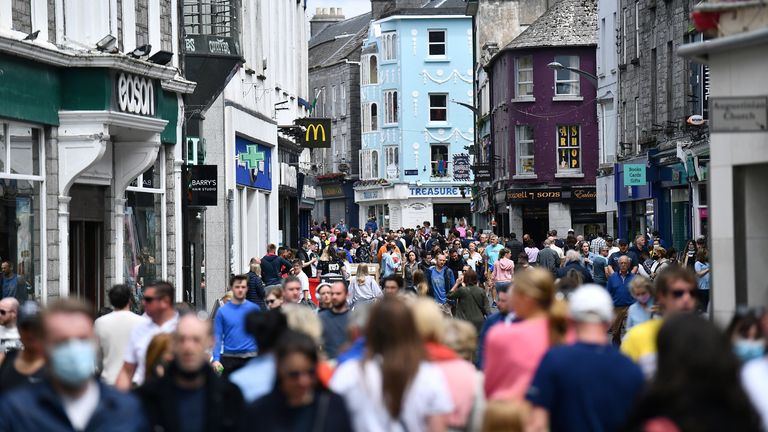 Tom Gallagher can't believe his native Waterford City is the current epicentre of Ireland's fourth COVID wave. Earlier in the pandemic, he was nearly killed by the disease.
Tom spent 66 days in the local hospital, including two stints on a ventilator in intensive care. His brother and sister also caught the disease.
"I walk past the hospital all the time", he tells Sky News. "I look up at it and just think…there are still people in there with this virus."
Tom now suffers from long COVID, and scans have shown his lungs are scarred from his bout with the disease. The 55-year-old agrees that almost everyone he knows in Waterford has been fully vaccinated, but thinks that that has led to a degree of behavioural complacency setting in.
https://news.sky.com/story/covid-19-irelands-co-waterford-has-one-of-the-highest-vaccination-rates-in-the-world-so-why-are-cases-surging-12461642
_______________________________
The Time for Silence is Over
A unified pushback against the globalist agenda
It's finally here, the Global Walkout begins September 4th at 8pm London time and continue every weeks. Next step february 12th.
One step at a time, hand in hand, we are walking out from the globalist society they are trying to enslave us into
ANYONE can participate
ANYWHERE in the world
JOIN or read about it here – https://globalwalkout.com
https://www.reignitefreedom.com/
The third step is to unsubscribe from all mainstream media outlets. Delete the apps from your phone, laptop, and tablet and unfollow all of their social media and YouTube channels. Try to avoid mainstream media for at least one week, even if the headline is intriguing.
In the same time why not removing all the big tech tracking/spying/social credit system around you: (Youtube, Facebook, Instagram, Twitter, Tik Tok, Google, Apple, Microsoft, Whatsapp, Zoom, Linkedln, Snapchat, Tumblr, Pinterest, Reddit, Myspace, etc.)
The fourth step of the global walkout is to move as many accounts as you can to a union or local bank.
If you like our work please consider to donate :
_______________________________
If you are looking for solutions (lawyer, form, gathering, action, antidote, treatments, maybe this could help you:
HERE
If you want to fight back better:
https://childrenshealthdefense.org/child-health-topics/health-freedom/defender-days-sticker-gallery/
Find the others: www.freedomcells.org
Spike Protein Protocol
Glutathione (most important for body detoxification) or better
NAC = N-Acetyl-Cysteine 600-750mg (causes the body to produce glutathione itself)
Zinc
Astaxantin 5mg (also improves vision)
Quercetin
vitamin D3
Milk thistle (also liver and stomach protection)
Melatonin 1mg to 10mg (against 5G)
Alternatively CDS/CDL and zeolite
Dr. Zelenko's Protocol contains Ivermectin, Hydroxychloroquine (HCQ), Zinc, Vitamin D3, and Quercetin.
https://rightsfreedoms.wordpress.com/2021/09/13/summary-of-the-spike-protein-protocol-protection-against-spike-protein-and-vaccine-shedding-contagion-from-vaccinated-persons/
How to find the truth :
Search engine: https://presearch.org/, https://search.brave.com/, Searx (choose the server that you want) or https://metager.org/
Videos: www.odysee.com
www.bitchute.com
www.brandnewtube.com

Facebook style: www.gab.com or https://www.minds.com/
INTELLIGENCE ISN'T KNOWING EVERYTHING, IT'S THE ABILITY TO CHALLENGE EVERYTHING YOU KNOW