The Medicines and Healthcare products Regulatory Agency (MHRA) has today given approval for the first monoclonal antibody treatment for the prevention and treatment of COVID-19 in the UK.From:Medicines and Healthcare products Regulatory Agency and The Rt Hon Sajid Javid MP
Published20 August 2021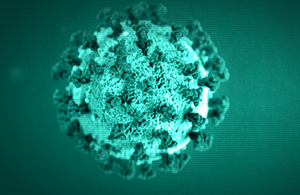 Following on from a thorough review of the evidence carried out by the MHRA, and recommendation by the Commission on Human Medicines (CHM), the government's independent expert scientific advisory body, the MHRA has approved Ronapreve as the first monoclonal antibody combination product indicated for use in the prevention and treatment of acute COVID-19 infection for the UK.
Developed by Regeneron/Roche, the drug is administered either by injection or infusion and acts at the lining of the respiratory system where it binds tightly to the coronavirus and prevents it from gaining access to the cells of the respiratory system. Clinical trial data assessed by a dedicated team of MHRA scientists and clinicians has shown that Ronapreve may be used to prevent infection, promote resolution of symptoms of acute COVID-19 infection and can reduce the likelihood of being admitted to hospital due to COVID-19.
Health and Social Care Secretary Sajid Javid said:
The UK is considered a world leader in identifying and rolling out life-saving treatments for COVID-19, once they have been proven safe and effective in our government-backed clinical trials.
This is fantastic news from the independent medicines regulator and means the UK has approved its first therapeutic designed specifically for COVID-19.
This treatment will be a significant addition to our armoury to tackle COVID-19 – in addition to our world-renowned vaccination programme and life-saving therapeutics dexamethasone and tocilizumab. "We are now working at pace with the NHS and expert clinicians to ensure this treatment can be rolled out to NHS patients as soon as possible.
Interim Chief Quality & Access Officer, Dr Samantha Atkinson said:
We are pleased to announce the approval of another therapeutic treatment that can be used for to help save lives and protect against COVID-19.
Ronapreve is the first of its kind for the treatment of COVID-19, and after a meticulous assessment of the data by our expert scientists and clinicians, we are satisfied that this treatment is safe and effective.
With no compromises on quality, safety and efficacy, the public can trust that the MHRA have conducted a robust and thorough assessment of all the available data.
See Information for Healthcare Professionals, and Information for UK recipients
https://www.gov.uk/government/news/first-monoclonal-antibody-treatment-for-covid-19-approved-for-use-in-the-uk
_______________________________
The Time for Silence is Over
A unified pushback against the globalist agenda
It's finally here, the Global Walkout begins September 4th at 8pm London time and continue every weeks. Next step 4th June 2023.
One step at a time, hand in hand, we are walking out from the globalist society they are trying to enslave us into
ANYONE can participate
ANYWHERE in the world
JOIN or read about it here – https://globalwalkout.com
https://www.reignitefreedom.com/
The third step is to unsubscribe from all mainstream media outlets. Delete the apps from your phone, laptop, and tablet and unfollow all of their social media and YouTube channels. Try to avoid mainstream media for at least one week, even if the headline is intriguing.
In the same time why not removing all the big tech tracking/spying/social credit system around you: (Youtube, Facebook, Instagram, Twitter, Tik Tok, Google, Apple, Microsoft, Whatsapp, Zoom, Linkedln, Snapchat, Tumblr, Pinterest, Reddit, Myspace, etc.)
The fourth step of the global walkout is to move as many accounts as you can to a union or local bank.
https://community.covidvaccineinjuries.com/compilation-peer-reviewed-medical-papers-of-covid-vaccine-injuries/
If you like our work please consider to donate :
_______________________________
If you are looking for solutions (lawyer, form, gathering, action, antidote, treatments, maybe this could help you:
HERE
If you want to fight back better:
https://childrenshealthdefense.org/child-health-topics/health-freedom/defender-days-sticker-gallery/
Find the others: www.freedomcells.org
Spike Protein Protocol
Glutathione (most important for body detoxification) or better
NAC = N-Acetyl-Cysteine 600-750mg (causes the body to produce glutathione itself)
Zinc
Astaxantin 5mg (also improves vision)
Quercetin
vitamin D3
Milk thistle (also liver and stomach protection)
Melatonin 1mg to 10mg (against 5G)
Alternatively CDS/CDL and zeolite
Dr. Zelenko's Protocol contains Ivermectin, Hydroxychloroquine (HCQ), Zinc, Vitamin D3, and Quercetin.
https://rightsfreedoms.wordpress.com/2021/09/13/summary-of-the-spike-protein-protocol-protection-against-spike-protein-and-vaccine-shedding-contagion-from-vaccinated-persons/
How to find the truth :
Search engine: https://presearch.org/, https://search.brave.com/, Searx (choose the server that you want) or https://metager.org/
Videos: www.odysee.com
www.bitchute.com
www.brandnewtube.com

Facebook style: www.gab.com or https://www.minds.com/
INTELLIGENCE ISN'T KNOWING EVERYTHING, IT'S THE ABILITY TO CHALLENGE EVERYTHING YOU KNOW