June 21, 2021
For those trying to follow the science and the law, it's been impossible to ascertain a modicum of consistency in the government's COVID response. However, when you follow the money, everything officials are doing (as well as what they are not doing) makes perfect sense.
The same government that has the power to use COVID to shut down our lives and our breathing also has the power to determine to which pharmaceutical company it will send billions of taxpayer dollars, a decision that is governed 100% by money and politics, not by sound medicine. We already understand why the vaccine companies have been funding a war against cheap, effective therapeutics such as hydroxychloroquine and ivermectin, but many have wondered why Merck would oppose a drug that the company itself has made for many years.
On Feb. 4, Merck came out with a shocking statement warning against the use of ivermectin to treat COVID. The statement claimed there was "no scientific basis for a potential therapeutic effect against COVID-19 from pre-clinical studies" and that there was "a concerning lack of safety data in the majority of studies."
This was quite a bizarre assertion given that 59 studies, including 30 randomized controlled trials, have shown the drug to be extremely effective at all stages of the virus. The statement regarding safety concerns was even more ludicrous given that nearly 4 billion doses of this drug have been dispensed for parasitic ailments, it won the Nobel prize, and it is listed among the WHO's most essential drugs. There is no logical reason why someone would somehow begin experiencing dangerous side effects if he happens to use ivermectin for COVID instead of for scabies or river blindness.
Nonetheless, Merck's statement served as a strong blow to the use of ivermectin, because Merck was a large dispenser of this drug. After all, why would the company dump on its own drug? https://playlist.megaphone.fm/?e=BMDC3407009247
Well, now we have an answer. On June 9, Merck announced that it had entered into a procurement agreement. Merck will receive approximately $1.2 billion to supply approximately 1.7 million courses of molnupiravir to the United States government. Molnupiravir is a new drug Merck is currently evaluating in a Phase 3 clinical trials to serve as the wonder drug to treat COVID. The estimated cost of the drug per treatment is $700!
So now we can understand why the company would swap out its own drug that has already been proven safe and effective for something new and experimental. Without the government sending a penny to Merck, I can buy a lifesaving dose of ivermectin for just $26 through GoodRX.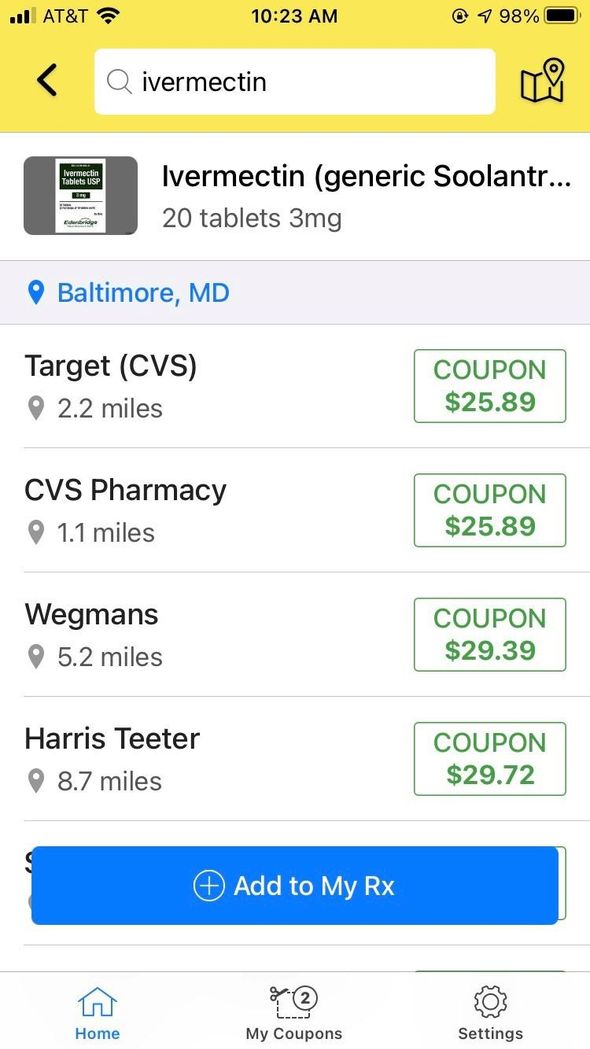 Well, that's if the pharmacy would actually dispense it to me and a doctor would prescribe it to me. We can now understand why Big Pharma has colluded with big government to pressure doctors and pharmacists away from prescribing and dispensing ivermectin. This historic business deal would be moot.
Also, let us not forget that expedited approval of experimental new drugs runs into the same problem as the experimental vaccines. Approval for "Emergency Use Authorization" can be granted by the FDA only if there is "no adequate, approved, and available alternative to the product for diagnosing, preventing or treating" a disease. That's why already-approved drugs like ivermectin have to vanish from discussion. Can you imagine how much ivermectin the feds could have dispensed for a fraction of the cost of expensive experimental drugs and mRNA shots?
What is particularly disturbing is that it appears that molnupiravir contains some of the same molecular qualities as ivermectin, which makes you wonder if Merck knows that ivermectin is effective and just sought a more expensive drug that could be marketed as exclusive and new for COVID, thereby justifying another budget blowout by Washington policymakers.
One of several antiviral qualities to ivermectin is that it disrupts viral RNA-dependent RNA polymerase (RdRp) enzymes. Two Italian doctors in a study published in Nature described the process as follows:
The RdRP residing in nsp12 is the centerpiece of the coronavirus replication and transcription complex and has been suggested as a promising drug target as it is a crucial enzyme in the virus life cycle both for replication of the viral genome but also for transcription of subgenomic mRNAs (sgRNAs) [34]. Ivermectin binds to the viral rdrp and disrupts it. The highly efficient binding of ivermectin to nsp14 confirms its role in inhibiting viral replication and assembly. It is well known that nsp14 is essential in transcription and replication.
Dr. Pierre Kory, the president of Frontline Covid19 Critical Care Alliance and one of the most prominent advocates of ivermectin, believes that the new drug developed by Merck acts in a similar way. Merck's new drug shares molecular similarities to #Ivermectin. And why wouldn't it? IVM is in a COVID-19 superstar… https://t.co/8IP8xyQJ7g
— Frontline Covid-19 Critical Care (@Frontline Covid-19 Critical Care)1623756897.0
Dr. Syed Mobeen, who hosts a daily medical show and often hosts Dr. Kory for discussions about COVID treatment, told me that "it seems that molnupiravir is a copy of one of Ivermectin's mechanisms."
"This mechanism is to disrupt the SARS-COV-2 virus' RNA-dependent RNA polymerase (RdRp) enzyme," said Dr. Mobeen, who runs a medical education center. "Copying this mechanism will give Merck a way to earn from an existing cheap drug's action by relabeling it; however, I believe that molnupiravir will continue to be less effective as studies show that ivermectin has more mechanisms to disrupt the SARS-COV-2 replication and spread. Hence, ivermectin will continue to be a superior choice over molnupirivir or other RdRp disrupters."
Aside from disrupting the viral RdRp, ivermectin supporters believe the cheap drug inhibits the spike protein from binding to the ACE2 enzyme and disrupts the importin alpha and beta.
Merck has yet to explain why its new drug would be more cost effective and score better in a risk-benefit analysis than ivermectin. Just over the weekend, a Cochrane-standard (the highest level review) meta-analysis of ivermectin against COVID-19 by Bryant-Lawrie, which has been published in the American Journal of Therapeutics, concluded that the "apparent safety and low cost suggest that ivermectin is likely to have a significant impact on the SARS-CoV-2 pandemic globally."
Thus, with a non-invasive, cheap, and safe drug that doesn't require one to lock down or wear a mask, we could largely solve the problem. Why would the medical establishment not take yes for an answer? As the study concludes:
Ivermectin is not a new and experimental drug with an unknown safety profile. It is a WHO "Essential Medicine" already used in several different indications, in colossal cumulative volumes. Corticosteroids have become an accepted standard of care in COVID-19, based on a single RCT of dexamethasone.1 If a single RCT is sufficient for the adoption of dexamethasone, then a fortiori the evidence of 2 dozen RCTs supports the adoption of ivermectin.
Now we know, in the case of Merck, there are 1.2 billion reasons why not. For some of the larger special interests, that number is exponentially higher and is all backed by the Fed's printing press and guaranteed by the media they have paid and influenced. Welcome to science and medicine.
https://www.theblaze.com/op-ed/horowitz-merck-rejects-ivermectin-for-covid-treatment-after-getting-12-billion-govt-contract-for-expensive-unproven-drug
_______________________________
The Time for Silence is Over
A unified pushback against the globalist agenda
It's finally here, the Global Walkout begins September 4th at 8pm London time and continue every weeks. Next step 4th June 2023.
One step at a time, hand in hand, we are walking out from the globalist society they are trying to enslave us into
ANYONE can participate
ANYWHERE in the world
JOIN or read about it here – https://globalwalkout.com
https://www.reignitefreedom.com/
The third step is to unsubscribe from all mainstream media outlets. Delete the apps from your phone, laptop, and tablet and unfollow all of their social media and YouTube channels. Try to avoid mainstream media for at least one week, even if the headline is intriguing.
In the same time why not removing all the big tech tracking/spying/social credit system around you: (Youtube, Facebook, Instagram, Twitter, Tik Tok, Google, Apple, Microsoft, Whatsapp, Zoom, Linkedln, Snapchat, Tumblr, Pinterest, Reddit, Myspace, etc.)
The fourth step of the global walkout is to move as many accounts as you can to a union or local bank.
https://community.covidvaccineinjuries.com/compilation-peer-reviewed-medical-papers-of-covid-vaccine-injuries/
If you like our work please consider to donate :
_______________________________
If you are looking for solutions (lawyer, form, gathering, action, antidote, treatments, maybe this could help you:
HERE
If you want to fight back better:
https://childrenshealthdefense.org/child-health-topics/health-freedom/defender-days-sticker-gallery/
Find the others: www.freedomcells.org
Spike Protein Protocol
Glutathione (most important for body detoxification) or better
NAC = N-Acetyl-Cysteine 600-750mg (causes the body to produce glutathione itself)
Zinc
Astaxantin 5mg (also improves vision)
Quercetin
vitamin D3
Milk thistle (also liver and stomach protection)
Melatonin 1mg to 10mg (against 5G)
Alternatively CDS/CDL and zeolite
Dr. Zelenko's Protocol contains Ivermectin, Hydroxychloroquine (HCQ), Zinc, Vitamin D3, and Quercetin.
https://rightsfreedoms.wordpress.com/2021/09/13/summary-of-the-spike-protein-protocol-protection-against-spike-protein-and-vaccine-shedding-contagion-from-vaccinated-persons/
How to find the truth :
Search engine: https://presearch.org/, https://search.brave.com/, Searx (choose the server that you want) or https://metager.org/
Videos: www.odysee.com
www.bitchute.com
www.brandnewtube.com

Facebook style: www.gab.com or https://www.minds.com/
INTELLIGENCE ISN'T KNOWING EVERYTHING, IT'S THE ABILITY TO CHALLENGE EVERYTHING YOU KNOW