By Ty & Charlene Bollinger
June 2, 2021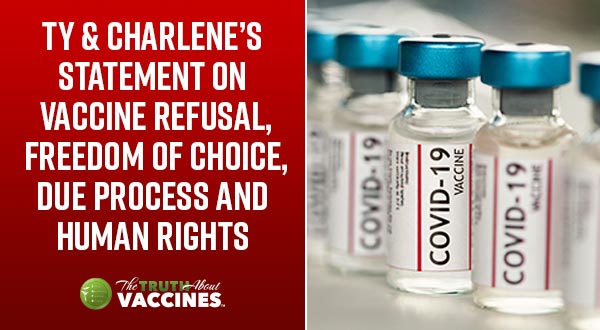 We believe in the principles of human rights and freedom of choice when it comes to any medical intervention, regardless of their risks or benefits. This means we believe every human being has the right to independently decide whether they wish to consent to a vaccine intervention, even if those vaccines are "experimental" in nature and may pose the risk of serious harm, injury or death.
Because we believe in health freedom, we must respect the freedoms of others who choose medical interventions that we know to be dangerous.
It is NOT acceptable to threaten other people who are taking or administering the vaccine
Because we respect freedom of choice, we believe it is not acceptable to engage in coercive activities in order to interfere with other people's medical choices, even if we are aware that their choices may be harmful or injurious to themselves and those around them. Specifically:
It is NOT okay to threaten anyone with violence in order to coerce them into avoiding taking a vaccine.
It is NOT okay to threaten the people administering vaccines to others, as they are merely NPCs following orders.
It is NOT okay to threaten doctors, nurses, pharmacists, vaccine researchers, Big Pharma executives or others who play a role in the vaccine pipeline. (It is okay to verbally condemn their actions, however.)
It is NOT okay to engage in vigilante justice of any kind against any person or group involved in vaccines.
We do NOT condone the use of violence to achieve a desired end, as we are OPPOSED to violence, including medical violence targeting children with experimental vaccines.
It is acceptable to inform the public
We believe that we should do our best to inform the public of the risks that doctors, science journals and the media aren't sharing with them, and that's exactly what we have been doing since we founded TTAV.
Acceptable methods of working to save someone from vaccine injury include sharing knowledge and information such as:
FDA data sheets that admit to a long list covid-19 vaccine side effects, including neurological problems, anaphylactic shock and loss of consciousness. This FDA fact sheet admits that 86.2% of children who participated in a Pfizer covid vaccine trial experienced adverse reactions.
State-level information sheets such as this Connecticut document that admits covid-19 vaccines may cause permanent injury or harm.
Reports citing VAERS data from CDC.gov, showing that thousands of Americans have already died after taking covid-19 vaccines. (VAERS data is publicly available for anyone to view.)
Video interviews, articles or presentations from researchers who are presenting information about vaccine risks that are typically not covered by the pharma-controlled media.
… and so on. Despite all the censorship of "vaccine hesitancy" information by Facebook, YouTube, Google, Instagram, and Twitter, there still are many credible information resources where individuals who want to learn more about vaccines can find out about their ingredients, underlying technology (mRNA, for example), risks of side effects and blood clotting potential, among other things.
Despite the large-scale pro-vaccine propaganda that's funded by the CDC's $1 billion propaganda budget (passed as part of the recent covid stimulus bill), websites like Natural News, Children's Health Defense, Green Med Info and many other sites — including this one — offer fact-based knowledge that can help people learn simple facts about covid-19 vaccines they may take into account when making their own decisions regarding medical interventions. We advocate peaceful approaches to countering vaccine violence, rooted in due process and human rights:
It is acceptable to peacefully protest outside vaccine clinics, hospitals or pharmaceutical operations, as long as such protests are lawful and pursued in the spirit of the First Amendment.
It is acceptable to demand investigations and prosecutions of those who are engaged in illegal activities surrounding vaccines, including those who are committing scientific fraud, withholding informed consent, carrying out plots to censor alternative treatments (such as ivermectin) or other illegal activities.
It is correct to demand law enforcement investigate and prosecute those carrying out crimes against children (or crimes against humanity), but we must defer to the justice system to pursue prosecutions and judgements.
The reason this approach is so important is because society as a whole must reject vaccine violence, not just a few individuals. Once this current batch of covid vaccines results in millions of deaths in the United States, it will become obvious that society must move against the vaccine cartels to protect innocent lives. That time has not yet arrived, but it will. Sadly, many of the very people who are going to be killed by these vaccines will never have a chance to speak out, since they will be dead. But survivors will sound the alarm.
Until that day comes, protect yourself and your loved ones from vaccine violence. Work to educate any who will listen. Adhere to the rule of law and respect due process.
Do NOT take vigilante actions against vaccine proponents. Instead, record their actions and crimes for future legal action against them once law enforcement and the courts are ready to pursue criminal cases against those who carried out vaccine violence against innocent victims. It is perfectly acceptable to keep records of present-day events and to turn those records over to law enforcement when the political will to prosecute vaccine violence eventually surfaces.
Save yourself, and save as many as you can through education, information and evidence. The truth will be readily apparent soon, and the vaccine industry has already set things in motion that will destroy the credibility of the entire industry for generations to come. Stay safe and abide by the law. Respect due process. Warn others but do not threaten them and do not harm them.
The truth will be revealed soon.
_______________________________
The Time for Silence is Over
A unified pushback against the globalist agenda
It's finally here, the Global Walkout begins September 4th at 8pm London time and continue every weeks. Next step 4th June 2023.
One step at a time, hand in hand, we are walking out from the globalist society they are trying to enslave us into
ANYONE can participate
ANYWHERE in the world
JOIN or read about it here – https://globalwalkout.com
https://www.reignitefreedom.com/
The third step is to unsubscribe from all mainstream media outlets. Delete the apps from your phone, laptop, and tablet and unfollow all of their social media and YouTube channels. Try to avoid mainstream media for at least one week, even if the headline is intriguing.
In the same time why not removing all the big tech tracking/spying/social credit system around you: (Youtube, Facebook, Instagram, Twitter, Tik Tok, Google, Apple, Microsoft, Whatsapp, Zoom, Linkedln, Snapchat, Tumblr, Pinterest, Reddit, Myspace, etc.)
The fourth step of the global walkout is to move as many accounts as you can to a union or local bank.
https://community.covidvaccineinjuries.com/compilation-peer-reviewed-medical-papers-of-covid-vaccine-injuries/
If you like our work please consider to donate :
_______________________________
If you are looking for solutions (lawyer, form, gathering, action, antidote, treatments, maybe this could help you:
HERE
If you want to fight back better:
https://childrenshealthdefense.org/child-health-topics/health-freedom/defender-days-sticker-gallery/
Find the others: www.freedomcells.org
Spike Protein Protocol
Glutathione (most important for body detoxification) or better
NAC = N-Acetyl-Cysteine 600-750mg (causes the body to produce glutathione itself)
Zinc
Astaxantin 5mg (also improves vision)
Quercetin
vitamin D3
Milk thistle (also liver and stomach protection)
Melatonin 1mg to 10mg (against 5G)
Alternatively CDS/CDL and zeolite
Dr. Zelenko's Protocol contains Ivermectin, Hydroxychloroquine (HCQ), Zinc, Vitamin D3, and Quercetin.
https://rightsfreedoms.wordpress.com/2021/09/13/summary-of-the-spike-protein-protocol-protection-against-spike-protein-and-vaccine-shedding-contagion-from-vaccinated-persons/
How to find the truth :
Search engine: https://presearch.org/, https://search.brave.com/, Searx (choose the server that you want) or https://metager.org/
Videos: www.odysee.com
www.bitchute.com
www.brandnewtube.com

Facebook style: www.gab.com or https://www.minds.com/
INTELLIGENCE ISN'T KNOWING EVERYTHING, IT'S THE ABILITY TO CHALLENGE EVERYTHING YOU KNOW