By Ty Bollinger
May 24, 2021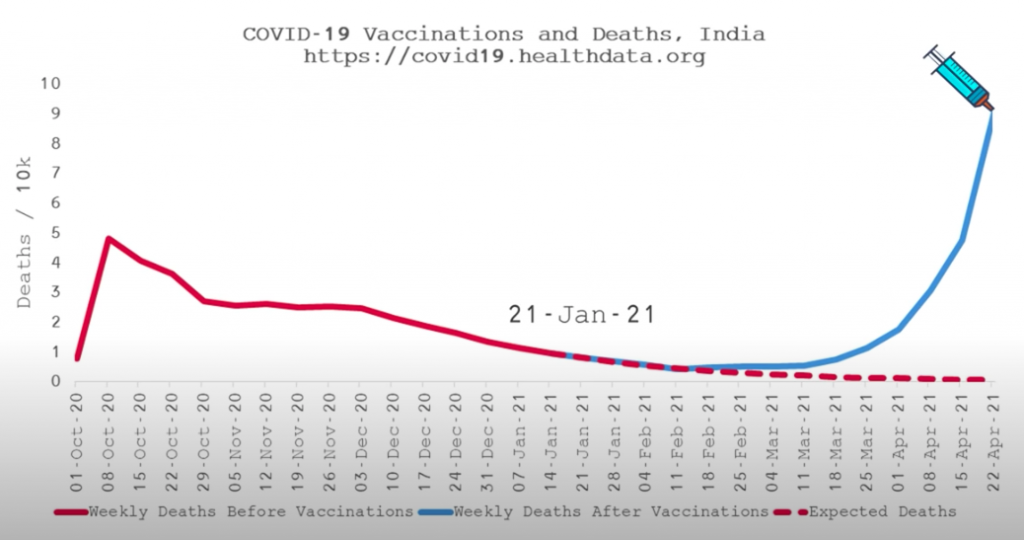 +1TweetShare322Share322 Shares
(Reposted from stateofthenation.co)
What the many graphs below clearly indicate are two crucial data points about the Covid Super Vaccination Agenda.
First, that virtually every country in the world was trending downward — precipitously — as the world community of nations started to approach natural herd immunity for COVID-19 at the end of 2020 and beginning of 2021.
Secondly, that as soon as the various Covid vaccines were rolled out worldwide, virtually every country saw a sharp spike in SAR-COV-2 cases, and especially in Covid deaths.
The red line in each graph below shows the trending toward herd immunity. The blue line indicates the extraordinary Covid death spikes which occurred shortly after each nation rolled out their vaccine programs.
Such an obvious genocidal outcome could only have occurred by highly purposeful design; and with the close coordination of numerous national, corporate, NGO and other institutional co-conspirators.
Let's take a close look at India since their vaccine-rekindled Covid crisis has recently captured the attention of the whole world. Here's the relevant graph tracking India's downward trend followed by an explosion of Covid deaths.

This completely avoidable mushrooming of Covid deaths across India occurred because of two critical developments, which were replayed around the globe with uncanny precision.
#1 — The WHO, Big Pharma, CDC, NIH, FDA and other agencies of the US Government ran a massive disinfo campaign to compel every country to immediately discontinue the use of Ivermectin, Hydroxychloroquine, Azithromycin, Clarithromycin, Zinc and/or any other effective treatments and successful protocols being used for COVID-19 patients.
#2 — These same genocidal co-conspirators ramped up the Covid Super Vaccination Agenda throughout the entire world community of nations to get everyone on the same vaccine game plan (aka the Covid Super Vaccination Agenda). Only in this way could the perps prevent any particular nation from showing off their vaccineless success story.
Now, here's another graph that reflects this exact sequence of events in India. New Delhi was trumpeting the tremendous success Indians were experiencing with their very inexpensive Ivermectin kits. And then look what happened in March of 2021 after millions were vaccinated and Ivermectin was stopped.
---
What else needs to be said when all the "HARD DATA PROVES BIG PHARMA KNEW COVID VACCINES WOULD WORSEN AND PROLONG THE PANDEMIC".
What follows are the graphs correlating the Covid vaccine rollouts with Covid death increases nation by nation which occurred late 2020 and early 2021.
---
---
---
---
---
---
---
---
---
---
---
---
---
---
---
---
---
---
---
---
---
---
---
---
---
---
---
---
---
---
---
---
---
---
---
---
---
---
---
---
---
---
---
_______________________________
The Time for Silence is Over
A unified pushback against the globalist agenda
It's finally here, the Global Walkout begins September 4th at 8pm London time and continue every weeks. Next step 4th June 2023.
One step at a time, hand in hand, we are walking out from the globalist society they are trying to enslave us into
ANYONE can participate
ANYWHERE in the world
JOIN or read about it here – https://globalwalkout.com
https://www.reignitefreedom.com/
The third step is to unsubscribe from all mainstream media outlets. Delete the apps from your phone, laptop, and tablet and unfollow all of their social media and YouTube channels. Try to avoid mainstream media for at least one week, even if the headline is intriguing.
In the same time why not removing all the big tech tracking/spying/social credit system around you: (Youtube, Facebook, Instagram, Twitter, Tik Tok, Google, Apple, Microsoft, Whatsapp, Zoom, Linkedln, Snapchat, Tumblr, Pinterest, Reddit, Myspace, etc.)
The fourth step of the global walkout is to move as many accounts as you can to a union or local bank.
https://community.covidvaccineinjuries.com/compilation-peer-reviewed-medical-papers-of-covid-vaccine-injuries/
If you like our work please consider to donate :
_______________________________
If you are looking for solutions (lawyer, form, gathering, action, antidote, treatments, maybe this could help you:
HERE
If you want to fight back better:
https://childrenshealthdefense.org/child-health-topics/health-freedom/defender-days-sticker-gallery/
Find the others: www.freedomcells.org
Spike Protein Protocol
Glutathione (most important for body detoxification) or better
NAC = N-Acetyl-Cysteine 600-750mg (causes the body to produce glutathione itself)
Zinc
Astaxantin 5mg (also improves vision)
Quercetin
vitamin D3
Milk thistle (also liver and stomach protection)
Melatonin 1mg to 10mg (against 5G)
Alternatively CDS/CDL and zeolite
Dr. Zelenko's Protocol contains Ivermectin, Hydroxychloroquine (HCQ), Zinc, Vitamin D3, and Quercetin.
https://rightsfreedoms.wordpress.com/2021/09/13/summary-of-the-spike-protein-protocol-protection-against-spike-protein-and-vaccine-shedding-contagion-from-vaccinated-persons/
How to find the truth :
Search engine: https://presearch.org/, https://search.brave.com/, Searx (choose the server that you want) or https://metager.org/
Videos: www.odysee.com
www.bitchute.com
www.brandnewtube.com

Facebook style: www.gab.com or https://www.minds.com/
INTELLIGENCE ISN'T KNOWING EVERYTHING, IT'S THE ABILITY TO CHALLENGE EVERYTHING YOU KNOW