Ozone Therapy
A Plausible "Penny" Costing Effective Treatment for Corona Virus – Ozone Therapy
Many viruses require reduced sulfhydryl groups for cell fusion and entry. Corona viruses, including SARS-CoV-2 (the cause of the condition now named coronavirus disease 2019 or COVID-19), are rich in cysteine, which residues must be intact for viral activity. Sulfhydryl groups are vulnerable to oxidation. Ozone therapy, a very inexpensive and safe modality may safely exploit this critical vulnerability in many viruses, inclusive of SARS-CoV-2.
https://clinmedjournals.org/articles/jide/journal-of-infectious-diseases-and-epidemiology-jide-6-113.php?jid=jideRobert
Covid Organics (CVO)
Madagascar now records only recoveries, no death in using herbal cure for COVID-19
The President went on to insist that the herbal remedy called 'COVID Organics' made from Artemisia can cure COVID-19 patients within ten days.
President Rajoelina said that the concoction named Covid Organics (CVO) – a form of herbal tea – is curing COVID-19 patients.
Taking to Twitter, Rajoelina advised people to believe in the country's ability. He said all profits accrued through the sale of concoction will be diverted to the Malagasy Institute of Applied Research (MIAR).
But the World Health Organization (WHO) in a statement has warned against any self-medication and said that it has not recommended any medicine as a cure for the COVID-19.
Also appearing on France 24 News, Rajoelina said that the only reason the rest of the world had refused to take the herbal cure seriously and with respect was that it came from Africa.
https://dailytimes.ng/madagascar-now-records-only-recoveries-no-death-in-using-herbal-cure-for-covid-19/
https://dailypost.ng/2020/05/17/madagascar-cure-we-have-been-offered-20m-to-poison-covid-organic-president-rajoelina-video/
•HCQ is effective for COVID-19. The probability that an ineffective treatment generated results as positive as the 192 studies to date is estimated to be 1 in 1 quadrillion (p = 0.00000000000000097).
•Early treatment is most successful, with 100% of studies reporting a positive effect and an estimated reduction of 67% in the effect measured (death, hospitalization, etc.) using a random effects meta-analysis, RR 0.33 [0.25-0.43].
•91% of Randomized Controlled Trials (RCTs) for early, PrEP, or PEP treatment report positive effects, the probability of this happening for an ineffective treatment is 0.0059.
•There is evidence of bias towards publishing negative results. 88% of prospective studies report positive effects, and only 75% of retrospective studies do.
•Studies from North America are 3.8 times more likely to report negative results than studies from the rest of the world combined, p = 0.00000017.
Hydroxychloroquine now approved as a preventative treatment for COVID-19 (Update)
As the COVID-19 pandemic explodes in the New York region and across California, the Malaria drug Hydroxychloroquine (HCQ) stood to play a major role as both a treatment for and as a prophylactic to prevent coronavirus infection. When it was used in combination with Azithromycin, it did show great promise in infected patients.
There are numerous accounts of the most seriously ill patients making a full recovery. Of countries that relied on
From Largest Statistically Significant Study by 6,200 Multi-Country Physicians on COVID-19 Uncovers Treatment Patterns and Puts Pandemic in Context:
Treatments & Efficacy
The three most commonly prescribed treatments amongst COVID-19 treaters are 56% analgesics, 41% Azithromycin, and 33% Hydroxychloroquine
Hydroxychloroquine usage amongst COVID-19 treaters is 72% in Spain, 49% in Italy, 41% in Brazil, 39% in Mexico, 28% in France, 23% in the U.S., 17% in Germany, 16% in Canada, 13% in the UK and 7% in Japan
Hydroxychloroquine was overall chosen as the most effective therapy amongst COVID-19 treaters from a list of 15 options (37% of COVID-19 treaters)

75% in Spain, 53% Italy, 44% in China, 43% in Brazil, 29% in France, 23% in the U.S. and 13% in the U.K.

The two most common treatment regimens for Hydroxychloroquine were:

(38%) 400mg twice daily on day one; 400 mg daily for five days
(26%) 400mg twice daily on day one; 200mg twice daily for four days

Outside the U.S., Hydroxychloroquine was equally used for diagnosed patients with mild to severe symptoms whereas in the U.S. it was most commonly used for high risk diagnosed patients
Globally, 19% of physicians prescribed or have seen Hydroxychloroquine prophylactically used for high-risk patients, and 8% for low-risk patients
---
---
In China and South Korea treatment with hydroxychloroquine with azithromycin was widely effective when COVID-19 first appeared. In a French study, it cured all 21 patients who took it in 6 days.
---
---
Conclusion
Although this is a retrospective analysis, results suggest that early diagnosis, early isolation, and early treatment of COVID-19 patients, with at least 3 days of HCQ-AZ lead to a significantly better clinical outcome and a faster viral load reduction than other treatments. In the document Outcomes of 3,737 COVID-19 patients treated with hydroxychloroquine/azithromycin and other regimens in Marseille, France: A retrospective analysis, the study concluded:
Although this is a retrospective analysis, results suggest that early diagnosis, early isolation and early treatment of COVID-19 patients, with at least 3 days of HCQ-AZ lead to a significantly better clinical outcome and a faster viral load reduction than other treatments.
https://www.commdiginews.com/politics-2/hydroxychloroquine-approved-preventative-treatment-covid-19-128426/#click=https:/t.co/8wCcOXXihV
Chloroquine is a potent inhibitor of SARS coronavirus infection and spread.
Conclusion
Chloroquine is effective in preventing the spread of SARS CoV in cell culture. Favorable inhibition of virus spread was observed when the cells were either treated with chloroquine prior to or after SARS CoV infection. In addition, the indirect immunofluorescence assay described herein represents a simple and rapid method for screening SARS-CoV antiviral compounds.
https://virologyj.biomedcentral.com/articles/10.1186/1743-422X-2-69


Evolution of the number of deaths according to the covid-19 treatment policy :
Spain (orange) : not using Chloroquine
Italy (blue) : not using Chloroquine
Morroco and Algeria (grey and yellow) : using Chloroquine

http://docteur.nicoledelepine.fr/covid19-et-confinement-aveugle-combien-de-morts-evitables/
Hydroxychloroquine and azithromycin as a treatment of COVID-19: results of an openlabel non-randomized clinical trial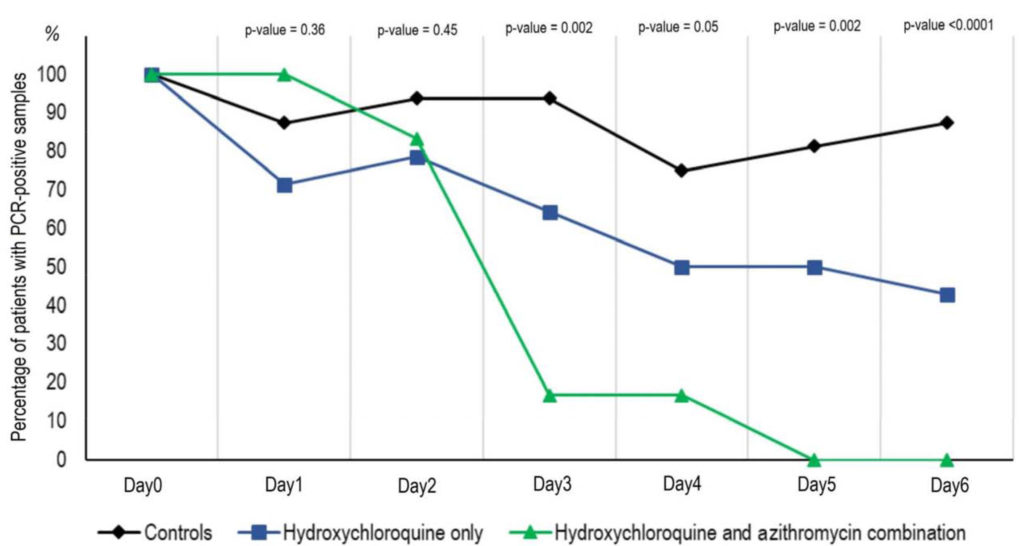 https://www.mediterranee-infection.com/hydroxychloroquine-and-azithromycin-as-a-treatment-of-covid-19/


An international poll of more than 6,000 doctors released Thursday found that the antimalarial drug hydroxychloroquine was the most highly rated treatment for the novel coronavirus.
https://www.washingtontimes.com/news/2020/apr/2/hydroxychloroquine-rated-most-effective-therapy-do/
Coronavirus deaths are 75% lower in countries using hydroxychloroquine. But the media and pharmaceutical special interests are still trying to say it's "dangerous and ineffective."
https://twitter.com/drsimonegold/status/1308860179631550464/photo/1

Stem cells

Transplantation of ACE2– Mesenchymal Stem Cells Improves the Outcome of Patients with COVID-19 Pneumonia
Thus, the intravenous transplantation of MSCs was safe and effective for treatment in patients with COVID-19 pneumonia, especially for the patients in critically severe condition.
http://www.aginganddisease.org/EN/10.14336/AD.2020.0228

How Pluripotent Stem Cells Reduce Covid19 Mortality
Based on our studies, but also on published data 3, we can state that pluripotent stem cells have an immune regulatory effect when exposed to hyper inflammation.

Pluripotent stem cells have also been used successfully in restoring lung function in patients with mild or severe COPD. Noticeable improvement is recorded within one week of daily treatment.

Based on our understanding of the inflammatory process involved in advanced stages of COVID-19 and based on our knowledge on how pluripotent embryonic stem cells are able to effectively reduce inflammatory storm without lowering the immune capacity, we believe that our pluripotent stem cells could help patients whose lung functions are declining rapidly due to the COVID-19 inflammatory storm.
https://stemaid.com/news/how-pluripotent-stem-cells-reduce-covid19-mortality.html

Vitamin C
Dr. Andrew Weber, a pulmonologist and critical-care specialist, observed that the Vitamin C levels in coronavirus patients show a dramatic decrease when they are confronted with sepsis.
Sepsis is the result of an inflammatory response caused when the body's immune system shifts into overdrive and overreacts to an infection, in this case, the SARS-CoV2 virus that causes the COVID-19 disease. Sepsis comes with a litany of symptoms also associated with COVID-19 and it can quickly kill a patient if not treated.

A randomized, triple-blind study with 140 participants is expected to be complete by Sept. 30, according to information on the U.S. National Library of Medicine's website, that may prove helpful with future outbreaks.

https://www.ibtimes.com/coronavirus-treatment-new-york-treats-covid-19-massive-doses-vitamin-c-2946440?amp=1&__twitter_impression=true
More than 80 per cent of hospitalized COVID-19 patients had vitamin D deficiency: study
https://www.ctvnews.ca/health/more-than-80-per-cent-of-hospitalized-covid-19-patients-had-vitamin-d-deficiency-study-1.5162396
New Study "Strongly Suggests" Giving COVID-19 Patients Vitamin C & Quercetin
Quercetin displays a broad range of antiviral properties which can interfere at multiple steps of pathogen virulence -virus entry, virus replication, protein assembly- and that these therapeutic effects can be augmented by the co-administration of vitamin C. Furthermore, due to their lack of severe side effects and low-costs, we strongly suggest the combined administration of these two compounds for both the prophylaxis and the early treatment of respiratory tract infections, especially including COVID-19 patients.
https://www.collective-evolution.com/2020/07/20/new-study-strongly-suggests-giving-covid-19-patients-vitamin-c-quercetin/
Why all of this the natural treatment are not accepted?
Vitamin D can help reduce coronavirus risk by 54%: Boston University doctor
The sunshine vitamin is easy to find and relatively cheap
Stop waiting for a miracle drug: A Boston University doctor says a sufficient amount of vitamin D can cut the risk of catching coronavirus by 54%.
"People have been looking for the magic drug or waiting for the vaccine and not looking for something this simple," said Dr. Michael Holick, professor of medicine, physiology and biophysics at Boston University School of Medicine.
Holick and his colleagues studied blood samples from Quest Diagnostics of more than 190,000 Americans from all 50 states and found that those who had deficient levels of vitamin D had 54% higher COVID positivity compared to those with adequate levels of vitamin D in the blood.
The risk of getting coronavirus continued to decline as vitamin D levels increased, the study, published in the Public Library of Science One peer-reviewed journal shows.
"The higher your vitamin D status, lower was your risk," Holick said.
https://www.bostonherald.com/2020/09/17/vitamin-d-can-help-reduce-coronavirus-risk-by-54-boston-university-doctor/?sf237918319=1
Pierre Kory, M.D., Associate Professor of Medicine at St. Luke's Aurora Medical Center, delivers passionate testimony during the Senate Homeland Security and Governmental Affairs Committee hearing on "Early Outpatient Treatment: An Essential Part of a COVID-19 Solution, Part II."
Ivermectin Study Reveals Fantastic Results: 100% of 60 Patients Better in an Average of Just Under 6 Days
The Results
Much like the results from Dr. Rajter at Broward County, Florida, United States and Dr. Tarek Alam, Bangladesh Medical College, the results here were quite positive.
Group A, the Ivermectin group, experienced a 100% recovery rate, with a mean symptomatic recovery duration of 5.93 days and negative PCR was on 8.93 days. The Group B results (Hydroxychloroquine and Azithromycin) was 96.36%, 6.99 days and 9.33 days respectively.
55.10% of the patients in Group A (Ivermectin) gained symptomatic recovery on the 5th day. A mild degree of adverse effect was noted by 31.67% of patients; lethargy in 14 (23.3%), nausea in 11 (18.3%) and occasional vertigo in 7 (11.66%) of patients.
In the meantime, Group B experienced some degree of adverse effects; 13 (23.21%) mild type of blurring of vision and headache; 22 (39.2%) increased lethargy and dizziness, 10 (17.85%) occasional palpitation, and 9 (16.07%) experienced nausea and vomiting.
Conclusion
The Upazila Health & Family Planning Officer's (UHFPO) Office, Chakoria, Cox's Bazar in collaboration with Abu Taiub Mohammad Mohiuddin Chowdhury, First Affiliated Hospital Xi'an Jiaotong University in China has come to the conclusion that in regards to treatment outcome, adverse effect and safety, the Ivermectin and Doxycycline combination is superior to Hydroxychloroquine-Azithromycin therapy in the case of mild to moderate degree of COVID-19 patients. The Bangladeshi and Chinese team found that both treatments were effective in this study. However, the Ivermectin results were superior to Hydroxychloroquine.
Ivermectin: Cheap Covid Treatment Shown to be Highly Effective in New Peer-Reviewed Study
Review of the Emerging Evidence Demonstrating the Efficacy of Ivermectin in the Prophylaxis and Treatment of COVID-19
https://journals.lww.com/americantherapeutics/Fulltext/2021/00000/Review_of_the_Emerging_Evidence_Demonstrating_the.4.aspx